Raptors vs. Cavaliers: Second Round Series Preview
The Leafs are golfing and the Jays suck so I'm all in on the Raptors right now. In the first round the Raptors were finally able to eliminate a lower-seeded team in less than 7 games by beating the young Milwaukee Bucks squad in 6 games. This year's edition of the Playoff Raps features a couple of shiny new pieces and a plethora of versatile young role players to surround the All Star backcourt of Kyle Lowry and Demar Derozan. But don't get it twisted, these are your same old Toronto Raptors.
The Playoff Raptors seem to only be able to win by slim margins, having to claw and fight their way to narrow victories… only to lose the next game in laughable blowouts that make you question your sanity. There doesn't seem to be an in-between. Despite being a top three seed each of the past three seasons, the Raptors have found a way to play like underdogs in every series they've played over that stretch. In the Milwaukee series the Bucks gave them hell in each of Toronto's four wins and absolutely embarrassed them by a combined 41 points in their two wins.
Despite a shaky start to this playoffs, there are reasons to think that this time it can be different. The acquisitions of Serge Ibaka and PJ Tucker at the trade deadline gave the team two stingy defenders and has made the team more flexible and able to play many different styles.
In this rematch of last season's Eastern Conference Final there are many factors and plot lines that will come to the forefront to eventually decide the series.
Can Lebron be stopped?
Here's what I said last year regarding how the Raptors should guard Lebron and for the most part I feel it still applies:
"I can't stress how important it is for Carroll to contain Lebron in this series. Notice I said "contain" and not "stop". That's because Lebron can get his 25 points and the Raptors will still have a chance to win the game. They only have a shot if Demarre can defend Lebron without the use of a help defender (…)  Once Lebron blows by you and draws a help defender, he will do one of two things: drive to the hoop, often times accompanied with a foul call, or whip a precise, cross -court pass to an open 3-point shooter."
While Demarre Carroll, Serge Ibaka and Patrick Patterson will surely get their looks guarding Lebron, you have to assume that PJ Tucker will get the bulk of the assignment. If I were the coach, I would have Tucker glued to him from the opening tip and mirror Lebron's minutes and time on the bench throughout the game. Now this won't happen because it appears as though Carroll has the starting small forward spot locked up until the end of time. Tucker is bigger, stronger, and at this point faster than Carroll, making him Toronto's best bet at guarding King James.
Can Coach Casey find Mismatches?
The big turning point in the latest series versus the Bucks was when Jonas was taken out of the starting lineup in favour of Norman Powell. This change gave the Raptors better timing in terms of matching and countering Milwaukee's lineups. Powell's presence in the starting five helped the Raptors match the Milwaukee's wing-dominant small ball lineup right from the opening tip. Valanciunas would then enter the games whenever the Bucks checked in Monroe. This made Monroe much less effective on the boards and in the post than he was in Games 1 through 3. Hell, Casey even played a three point guard lineup a few times so that Lowry, Joseph and Wright could matchup against Brogdon, Dellavedova and Terry.
The thought behind this strategy was pretty smart in the sense that, if the Raptors matched Milwaukee lineup for lineup, their collective talent is better and most of their players can theoretically win their respective one-on-one matchups at both ends of the floor. Except when Giannis was cooking. Nobody was stopping that guy.
I don't think that the Raptors can necessarily employ that mindset in this series because the Cavaliers are a lot more talented than the Bucks and probably have the talent edge over the Raptors. This means that Coach Casey and company need to search for mismatches that can potentially swing the fate of the series. Maybe its Jonas overpowering Cleveland's smaller big men. Maybe they look to use Kyle Korver's man (probably Powell or Carroll) to exploit his slow feet and weak defense. Maybe Kyle fights through injury and takes advantage of the defensively-challenged Kyrie Irving while effectively D-ing him up on the other side of the ball. They've got to find something.
Can the Cavs Defend?
They certainly haven't this season. With the 21st ranked defensive rating in the league, Cleveland has relied solely on their elite offensive game to win games. This trend carried over into the playoffs as a hapless Indiana Pacers team was able to average 108.75 points per game despite being swept at the hands of the reigning champs. The defense is by far the most glaring hole in Cleveland's game. Lebron is their only player who resembles an elite defender and last time I checked, I don't think he can guard everyone on the court at the same time. (*double-checks* I think the math works out)
What can Jonas bring to the series?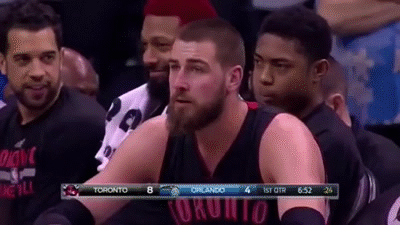 Cleveland is a very weak rebounding team. This season they ranked 22nd  in Defensive Rebound Percentage by grabbing 75.8% of the available defensive rebounds on the court. In theory this should mean that a big bruiser like Jonas can run wild in the paint and wreak havok on Cleveland's smaller big men. The problem is that, over the entirety of his career, Valanciunas has tended to mentally check out of the rebounding game and becomes disinterested if he isn't getting his touches in the offensive sets. If he isn't active on the glass and putting back missed shot attempts, then his limited offensive game and poor pick and roll defense make him unplayable in this series. If he starts gobbling up offensive rebounds like the fiend he has shown flashes of being, he could be a real x-factor for the Raptors.
Will the refs call an even series?
In the first round the Pacers were called for 91 fouls in contrast to Cleveland's 73.
So no, probably not.
Players to Watch
Demar Derozan was an absolute stud in the first round, even with a rangy defender like Giannis circling around him like a pterodactyl. Things won't get any easier with King James locking him down. Let's see what Demar is really made of.
Kevin Love doesn't get nearly enough love when people talk about Cleveland's success. A solid .373 3P% and a team-best (among regulars) 107 Defensive Rating has made Kevin the key to Cleveland's small ball lineup. His presence on the three point line will effectively take Toronto's best rim protector, Serge Ibaka, out of the paint.
Without Dellavedova or any defense-literate guards to match-up with Lowry, the Kyrie Irving vs. Kyle Lowry matchup could decide the series. If Kyle's back injury continues to hinder his effectiveness, look for sophomore guard Delon Wright to get some minutes guarding Kyrie.
With JR Smith, Iman Shumpert, Deron Williams, Channing Frye and Kyle Korver camping behind the three point line, the Cavs have surrounded Lebron with enough shooting that he should have more than enough room to operate in the paint.
Tristan Thompson's speed, athleticism and length will give Jonas fits on offense. One of the quickest and most explosive screen rollers in the game, it'll be a challenge for the Raptors big men to keep him out of the paint and off of the offensive glass.
That being said, Patrick Patterson could be the perfect foil to Thompson's attack as he is Toronto's best big man at defending the pick and roll. What he lacks for in size and leaping ability he makes up for with his length, foot speed, awareness and positioning making him Toronto's best help defender.
Prediction
I think the smart pick is to have the Cavaliers winning this in 5… That being said, I will probably puke if I have to watch Lebron once again stroll through a crappy East in order to get his annual NBA Finals screen time… This is the most beatable team that Lebron has entered the playoffs with since his pre-Heat days and, despite my uneasiness, this is the best team the Raptors have ever constructed. Let's hope that there's an upset in the works. Raptors in 7
Season Series
Cleveland 3-1
Oct. 28 CLE: 94 @ TOR: 91
Nov. 15 TOR: 117 @ CLE: 121
Dec. 5 CLE: 116 @ TOR: 112
Apr. 12 TOR: 98 @ CLE: 83
Schedule
Game 1: Monday May 1; 7:00 @ Cleveland
Game 2: Wednesday May 3; 7:00 @ Cleveland
Game 3: Friday May 5; 7:00 @ Toronto
Game 4: Sunday May 7; 3:30 @ Toronto
Game 5: Tuesday May 9; @ Cleveland
Game 6: Thursday May 11; @Toronto
Game 7: Sunday May 14; @ Cleveland