Warriors, Spurs, Rockets and Jazz Move On: NBA Western Conference Playoff Recap and Round 2 Preview
The Recaps
(1) Golden State Warriors vs. (8) Portland Trail Blazers: 4-0 Warriors
There really isn't too much to be said about this series. The Warriors were the Warriors and they blazed a trail through the heart of the Trail Blazers. It's unfortunate that the Blazers found themselves shorthanded–with starting centre Jusuf Nurkic sidelined with a fractured leg–in a matchup that was already of "David and Goliath" proportions from the beginning. The Trail Blazers have an excellent scoring tandem of Damian Lillard and C.J. McCollum, but they were probably matched up against the only backcourt in the Western Conference that is better then them. Steph Curry and Klay Thompson were just too much for them to handle. The X-factor in this series was clearly the Golden State's Draymond Green. He was at the top of his game making an incredible impact with efficient shooting and playmaking, while demonstrating his Defensive Player of the Year calibre skillset. He stuffed the box score the entire series.
Of Note: It was impressive to see the Warriors pull off this sweep despite being very cautious with Kevin Durant. He played 36 minutes in game 1, but then sat out games 2 and 3 with an apparent leg injury, before making his return in an easy 20 minute game 4 performance. These Warriors look primed for another deep run and with a healthy Durant, look out.
(2) San Antonio Spurs vs. (7) Memphis Grizzlies: 4-2 Spurs
Entertainment off the court appeared very early in this series when Memphis Grizzlies head coach David Fizdale voiced his displeasure with the officiating in a press conference for the ages following their game two loss. If you haven't seen it yet, it's well worth the watch. 
As for the on-court action, Kawhi Leonard played like an MVP. He carried Spurs in all facets, exemplified by him putting up the third highest game score of the NBA's first round (26.6), behind only Lebron James and Russell Westbrook. Tony Parker stepped up nicely offensively as Leonard's most solid support. Parker put up 16.3 points per game in this series which was reminiscent of how he used to perform in his prime. His strong PPG stat came in spite of his goose egg in the points column in Game 3. A 27-point performance from Parker in a close out Game 6 was huge and is certainly an encouraging sign for the Spurs.
On the other side of the battlefield, Mike Conley led the Grizzlies and looked like a $153 million dollar man. But after Marc Gasol and Zach Randolph, there is a supreme lack of depth on this roster that couldn't quite keep up with the Spurs. The Memphis "Grit and Grind" style of basketball is a nice idea, but can only go so far with a 40 year-old Vince Carter being relied upon for shouldering the secondary offense.
Of Note: Speaking of Vince Carter, he recently said that he's not quite done with the league yet.
With the elimination of the Los Angeles Clippers spelling the end of Paul Pierce's NBA career, the 2017-18 NBA season will feature the final two members of the NBA class of 1998; Carter and the Dallas Mavericks' Dirk Nowitzki.
(3) Houston Rockets vs. (6) Oklahoma City Thunder: 4-1 Rockets
This series (and this whole season, I guess) proved that you could have the most ridiculously productive stat-stuffing player in the league's history, and your team still won't always win. It's pretty obvious that Russell Westbrook needs some help (whether he'd like any is another question). The result of this series isn't really surprising and I think this one stat sums it up: after the Houston Rockets shattered the NBA 3-point attempts record this season with 40.3 per game, they only hit 28% of their attempts in this series; yet still won the series in 5 games. In other words, their strength wasn't even their strength in this series, and they still got it done.
Man, the Thunder are so reliant on Russell Westbrook it's not even funny. Some major credit has to be given to Patrick Beverley though, who did an unreal job guarding Westbrook…because James Harden sure wasn't going to… alright maybe I shouldn't bash Harden. His 33/6/7 averages for the series were nothing to ignore. Oh, and Nene had an under-the-radar out-of-nowhere great series too, making the most of his limited minutes. Looking ahead, I can't wait to see this Rockets/Spurs matchup.
Of Note: Russell Westbrook's incredible season finally came to a close, and he dragged the Thunder as far as he possibly could. But a little bit of advice, don't try and single him out from his teammates. Unless of course you want to sound like a whimpering kitten in the middle of a press conference. Poor reporter, he just wanted to talk to his buddy Steven. https://www.youtube.com/watch?v=RTCqyDx6LIk&t=5s (0:20-1:54)
Side-Note-Of Note: Did anyone else find it ironic that Steven Adams was wearing a NASA t-shirt while in the middle of a series against the Houston (we have a problem)…ROCKETS?
No more dancing Russ this season.
(4) Los Angeles Clippers vs. (5) Utah Jazz: 4-3 Jazz
These franchises are heading in two completely different directions. The Jazz are a young, up and coming team, while the Clippers are a historically underachieving team with a core that has done absolutely nothing of substance. The Clippers were dealt a huge blow after game three when it was revealed Blake Griffin was injured (again) and would miss the remainder of the playoffs. I like this Jazz team and I applaud them for taking advantage of the Clippers and their situation. Gordon Hayward played like the star and the veteran big-man performances from Derrick Favors and Boris Diaw were huge when Rudy Gobert (2K God) was to held to just 17 seconds played in the first three games due to injury. Winning three of their four games on the road against a higher seeded team is an impressive feat, and we should be seeing this Jazz team in the playoffs for a few years to come.
Chris Paul was great for the Clippers in this series, but unfortunately, when it mattered most in Game 7, he put up a clunker of a 6/19 shooting performance and we're left groaning "same old Clippers". The Clips will be an intriguing team to watch this offseason with lots of questions swirling there. Upside to this result: We don't have to subject ourselves to Steve Ballmer anymore.
Of Note: "Iso" Joe Johnson keeps doing amazing things in the post-season. This guy seems to be the definition of clutch no matter where he's playing (see Nets vs. Raptors a couple years back). With this being the only seven game series of the first round, there were lots of crunch time situations popping up, and Johnson came through as always.
Preview and Predictions
(1) Golden State Warriors vs. (5) Utah Jazz (Season Series: 2-1 Warriors)
This is a bit of a mismatch. The Jazz weren't resounding favourites to get through the first round, so the odds aren't exactly on their side now that they're matched up against the Western Conference's #1 seed of the past three consecutive season's. If the Jazz have any chance it's going to be through their defence. The Warriors like to shoot the three and the Jazz were the second best team in league at chasing opponents off the three-point line this season with just 28% of their opponents field goals coming from three point land. Either way, I think the Warriors roll.
Key Players:
Warriors
Kevin Durant: This is basically just from a "stay healthy so you're still around for the next round" perspective. Durant is one of the best players in the world, he's the definition of "key".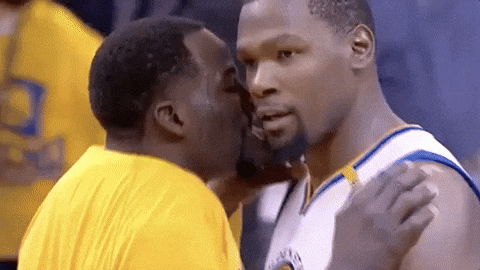 That's probably what Draymond was telling him.
Jazz
Rudy Gobert: The "Stifle Tower" is going to be crucial for the Jazz on the defensive end. It is imperative that he protects the rim so that the Warriors are limited in their high percentage scoring opportunities. Also, he's going to need to cause some problems on the glass on both ends of the floor. If he can create second chance opportunities for his team while ensuring the Warriors don't receive many, then maybe the Jazz can steal a game or two.
Prediction: Warriors 4-1
(2) San Antonio vs. (3) Houston Rockets (Season Series: 3-1 Spurs)
If this series is anything like their regular season tilts, this should be a beauty. In the four games these teams played this season, the score was separated by a total of just 12 points (three of them were 2-point games). These are two teams with differing styles of play and it's especially hilarious that Spurs head coach Greg Popovich hates three-pointers and his team is matched up against the most three-point happy team in the history of the league. With talented superstars in Kawhi Leonard and James Harden alongside deep rosters on both sides, we're in for some entertaining basketball.
Key Players:
Spurs
Danny Green: Not that the Spurs should try getting into a shootout with the Rockets, but this guy has to start knocking some shots down. The Rockets are going to be showing some small lineups so you know Green will get a solid dose of court time. He's got to make the most of it.
Rockets-
Trevor Ariza: Much like Danny Green, this guy has got to hit some shots. He shot an awful 34% from the field and 19% from three in the first round, while playing 38 minutes per game. That's not going to cut it. He's more of a key from a defensive standpoint though, as he'll likely be the one matching up with Kawhi. The Spurs go as Kawhi goes; limiting him is important.
Prediction: Spurs 4-3