Bench Talk 05/26/2017
"It's like the bottom of the ninth and I'm never gonna win. This life hasn't turned out, quite the way I want it to be." — Chad Kroeger

Losing can be tough. Losing while riding the pine is downright insufferable. Reach into the styrofoam cooler, crack a cold one and let's talk some sports.
In the News
IIHF World Championship ends Gold Medal Game in Shootout. Is this a crappy way to finish?
Brendan Ballantyne (BB):
Of course it's a terrible way to finish, who wants to watch someone win a gold medal on someone missing a shot on net? That's exactly what happened when Mitch Marner was stopped by Henrik Lundqvist this past Sunday. The shootout is simply a weak way to decide a hockey game and the NHL only gets away with it is because it avoid ties and because shootout results aren't quite as glaring due to the the length of schedule.
The fact is though, the NHL should be credited because at least they acknowledge that the shootout belongs nowhere near the games of most importance. I don't know what the IIHF is thinking. Do they have somewhere to be? What's the rush? Why does this game need to end like that?
Sudden death overtime is the best part of meaningful hockey, nobody has memories of game winning shootout goals (or even saves) because it's so unnatural in comparison to the game. It's a let down. The OT period between Sweden and Canada was entertaining hockey and the shootout ruined what could've been a potentially historic memory. You may say I'm biased because Canada is on the losing end this time around, and the World Junior team lost in the same fashion etc.. But I firmly believe this is a waste of great game on the IIHF's part, and I'd say even that if the results were reversed.
Cameron Burgess (CB):
A shootout in any sort of meaningful game is the absolute worst way to end it. There's a reason why NHL playoff games are continuous overtime. I was at the gold medal game for the World Juniors this year and after experiencing a game like that live, I really think that the shootout has no place in international hockey.
Early round games should end in a tie after an overtime period, and any elimination game should be continuous OT. It just doesn't make sense for a game that means so much to end with a gimmick. Hockey is a team sport, so why are games ended on plays between one player from each team? Of course, anyone outside of Canada hears a bunch of Canadians complaining about their team losing in a championship game and just assumes they are all bitter about the result. But I can honestly say that even if Canada won in a shootout, it still would be a disappointing way to end an otherwise exciting game. Nobody is going to remember who scored the shootout winner, but everybody will remember the Golden Goal.
Thomas Waind (TW):
I have no problem with it. That is to say I don't hate shootouts in international competition. I think that shootouts have cheapened the NHL product because they happen way too frequently to the point that they've become trivial and boring.
The whole allure of shootouts that led to the subsequent NHL rule change in 2005 actually stemmed from the excitement they generated in international tournaments.The Peter Forsberg stamp goal to win the 1994 Olympic Gold is one of hockey's most iconic moments. The 2007 World Junior semi-finals between Canada and US, the one where Toews went bananas, was one of the most fun games I've ever watched.
TJ Oshie can credit almost all of his fame to his one-man shootout show in Sochi 2014.
Since being implemented in 1992, the shootout has been ingrained in international hockey tourneys and I'm cool with it staying that way. The people on their soap box yelling about shootouts right now are just looking to extend their shootout-complaining ways year round while the NHL seasonally switches to continuous OT format for the playoffs. For once, I'm not the one complaining, which should be proof as to how much of a non-issue this really is. I'm done with NHL shooutouts but I'm not giving up on them in international play.
NBA vs. NHL Playoffs: Who ya got?
(TW): I have to say, the first two rounds of the NHL playoffs are far superior to the NBA's. The hard salary cap and division based playoff seeding (which are both dumb concepts) creates parity and marquee matchups that make the first two rounds competitive and pretty exciting. But after those two rounds it definitely slows down. The Penguins-Capitals second round series was literally a battle of the NHL's top seeded teams. After that thrilling 7 game series, the level of excitement for the NHL playoffs has only gone down from there. The NHL playoffs peaked way too early.
On the other end of the spectrum, the first two rounds of the NBA playoffs are typically a bit of a snoozefest, especially when this year's 4 v 5 and 3 v 6 matchups offering as little intrigue as possible. But unlike the NHL, the NBA Finals usually is a fair representation of who has been the best teams all year, with very few examples of huge upsets. This year's playoffs have been especially bland in its first three rounds, but the Finals should be an absolute classic.
While this may be a deterrent to some people looking for non-stop action throughout the playoffs, it usually makes for one of the most exciting Finals in professional sports. This year the Cavaliers and Warriors will be the first teams to ever play each other in three consecutive Finals, with each looking to win their second championship in three years. Lebron is the best basketball player on the planet and is flanked by two all stars in Kyrie Irving and Kevin Love while the Warriors have been one of the most dominant regular season teams of all time and boast four bona fide superstars. It should be an all-out war.
I'll watch the NHL Finals, but quite honestly it'll be tough for me to get out of bed to watch a dinged up Nashville squad play the the just-as-injured Pittsburgh Penguins. Each team has its own cool individual story. "Smashville" has taken Tennessee by storm and Pittsburgh is looking to become (probably the least talked about) back-to-back champions. Unfortunately both of those plotlines pale in comparison to the spectacle that will be the NBA Finals. Unless Bettman and co. change something, the NHL will continue to play second fiddle to the NBA in terms of North American viewership in the spring (except in Canada where lunatics live and die with every puck despite their teams never making the Final).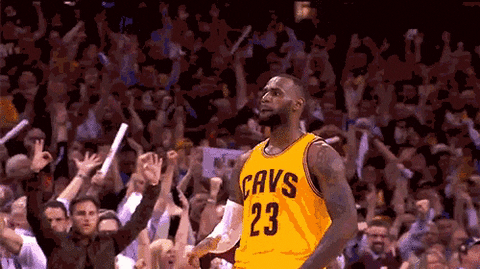 (BB): If we're talking this year, this isn't even a conversation. The NHL playoffs is miles ahead from a entertainment and competitiveness standpoint in comparison to the NBA's product. This has been a bad NBA playoffs, with no real compelling series other than maybe the 7-game Jazz and Clippers series in the first round. But the thing is, it didn't even matter what the result of that series was because neither team was going to make the Finals and everybody knew it.
In my opinion, it's a real disadvantage to the NBA that their league is so predictable from day one of the season. I love the Toronto Raptors, but I'm not crazy enough to actually think that there was hope for them to beat the Cavs, and it's tough to be a fan sometimes in a situation like that. It made it hard to be engaged in the Raptors/Cavs second round series because the result was determined before the first tip. This isn't to say that this Warriors/Cavs series won't be unreal entertainment, but there are also 28 other teams in this league. If none of them have a chance, the playoffs just seem like a formality. The NHL is the exact opposite as any team, on any given day, in any given series has a chance to win. Maybe that's just because of the way the two sports are played at their roots, but I'll take a playoffs full of entertainment instead of one series every time.
(CB): NHL Playoffs are way better, and I honestly don't even see this as a real argument. The excitement and unpredictability of the NHL makes each series entertaining, because each team actually has a chance to win the Stanley Cup.
Look at Nashville for example. They just became the first team in NHL history to make the finals as the 16th seed. This is the same as if the Portland Trail Blazers would have made it the the NBA Finals this year.
The NBA just doesn't have the same balance and competitiveness, and in my opinion it makes it a lot less interesting to watch. Why bother watching a 4 vs. 5 matchup like Washington against Atlanta when you know neither team has a chance of winning the trophy? Nobody can compete with Cleveland and Golden State, so who cares about all the matchups leading up to the Finals. The NBA has one entertaining round while the NHL has four. And honestly, I'm tired of seeing the same "superteams" competing every year. Nashville in the Stanley Cup Finals is a refreshing change from the usual Chicago or LA.
I'm hoping and honestly starting to believe that the Predators are capable of knocking off the defending champion Penguins. Honestly I don't care too much about the NBA Finals. Sure, it's the trilogy and one team will be up 2-1 head to head in series wins. But what happens next year when it's Cleveland vs. Golden State IV? I'll watch the highlights, maybe parts of the games, but I know for sure that I won't be sitting down to watch a full game of the NBA Finals like I will be for the Stanley Cup Finals. NHL > NBA.
Is Nashville a "Hockey Town"?
(TW): Why not? According to ESPN, the Preds averaged 100.3% capacity attendance per game (good for 8th in the NHL) and have captured the city's hearts during this seemingly unlikely playoff run. PK Subban is one of the NHL's most marketable stars and if he can deliver a Stanley Cup to Tennessee then they could be locked in as hockey fans for life (so long as you forget about the current state of the Hurricanes a decade after winning the Cup).
Over the past couple of seasons, the team has really embraced the city's country roots and it seems as though a typical Predator's game has become unique hockey/country music event unlike anything the NHL has ever seen. It'd be cool if it were sustainable, but like every midwest market, I am worried that a slide in the team's quality of play could potentially have fans rushing back to Titans football.
(BB): Sure seems like it. With the growth of hockey around the world I think our definition of a "Hockey Town" may be starting to change. With Nashville selling out more games than Ottawa this season it's becoming clear it isn't simply a "Canada vs. USA" debate in who supports their NHL franchises best. It's about an individual city and their fanbase and their love of the sport. It's looking like Bettman (BOOOOOO) may have uncovered a gem in Smashville. This feels a lot like last year when San Jose made their run to the finals for the first time in franchise history. And 19 years later, I'm happy for the passionate Nashville fan base they find themselves in a Cup Final.
(CB): Nashville may not be your traditional "Hockey Town", but this playoff run and atmosphere surrounding it proves that Nashville is definitely all-in on the Predators. Having country music superstars singing the anthem at home games, selling out games, fans throwing ducks onto the ice. The city is crazy about this team right now, and with a solid core of players including one of the most marketable guys in the league in P.K. Subban, Nashville could be a "Hockey Town" for years to come.
Halftime

In honour of them making their first ever Stanley Cup Finals, here are Nashville's two official goal songs:
3 Stars of the Week
TW: William Nylander
This past week, the 21 year old Leafs winger (maybe future center?) won the World Championship MVP and led Sweden to the gold over Canada. Nylander finished the tournament tied for the fourth most points (14 in ten games) and tied for the most goals with 7. The dynamic winger was almost "lost" in the shuffle this season with the Leafs because, let's face it, things are looking great and sometimes you lose yourself while talking about Matthews. Just a great way for Willy to cap off a great rookie season.
BB: Lance McCullers Jr. – Houston Astros
This guy is DEALING right now (and making my fantasy team very happy, but that's beside the point). He's currently riding a streak where he hasn't allowed an earned run in 26.1 innings(!!!). This guy is only 23 but he's demonstrating that his stuff is for real, to the tune of a 2.43 ERA and 1.05 WHIP through 10 starts (5 of which he hasn't allowed an earned run in). McCullers is a big reason why the Astros find themselves atop the AL West and looking like one of the best teams in baseball. His recent dominance even scored him the cover of the most recent Sports Illustrated…well, his hand at least.
CB: Colton Sissons
A hat trick in a series-clinching game to send your team to the Stanley Cup Finals? Say no more. This guy stepped up when it mattered most and delivered with 3 goals including the game winner. Not bad for a third line center. Even before his huge Game 6 performance, Sissons has been one of the most consistent forwards for the Predators this postseason. You might not have known his name before, but you definitely do now.
The Dog House
TW: Randy Carlyle
How does this guy still have a job? Why would the Anaheim Ducks hand the keys of a Cadillac to Abe Simpson?
The Ducks are a team with Stanley Cup aspirations, built with a good mix of dynamic veterans like Getzlaf, Perry and Kesler, a deep and talented young blueline playing in front of one of the best young goalies in the league.
Then walks in old man Carlyle who can't wrap his head around the most basic idea of puck possession play. I've seen it before. His style seems to allow 30-40 shots per game which just grinds his goalies into dust. Except instead of letting down a sh*tty team like the Toronto Maple Leafs, he's holding back real contenders. Unless Gibson (or Bernier?) becomes the next coming of Dominik Hasek, the Ducks simply can't win with this guy behind the bench. I get it, in 2007 he won a Cup with a team with 2 Hall of Fame defensemen, an all star goalie, two strong forward lines and a boatload of fighters. But it's 2017 and you aren't going to win hockey games anymore without the puck on your stick.
BB: Odell Beckham Jr. – New York Giants
Beckham Jr. didn't show up for the first few days of voluntary organized team activities (OTAs) this week and his coach isn't happy about it. OTAs are a time for teams to get comfortable with each other, and build relationships with newcomers. Giants Head Coach Ben McAdoo described OTAs as "a time to build fundamentals and communication and chemistry and trust, so you want all your players here, especially the great ones". So Odell wants to act like he's top sh*t, but doesn't want to get back to work as soon as possible and begin work with Brandon Marshall, Evan Engram and Eli Manning? This coming after his disappearance last season in his first career playoff game… not a good look.
CB: Kelvin Benjamin – Carolina Panthers
When you're a professional athlete, you're expected to take care of yourself. Yet it seems every year, somebody shows up to the start of a new season and over the past few months have decided that they don't need to see the inside weight room. For the past couple of seasons it was Eddie Lacy. This year that player is Kelvin Benjamin. Players typically use the offseason as a chance to recover from any injuries from the previous year, while also getting into the best shape possible for the upcoming season. Instead, Benjamin has shown up to OTAs weighing in at a reported 280 pounds, looking more like a tight end than a star receiver. While the season is still a few months away, Benjamin looks like he has a lot of work to do in order to get ready.
I don't think "slow and steady wins the race" applies to football.
In Defense
"1. The Waterboy – Bobby Boucher delivers some high quality H2O as well as a high quality movie." Brendan Ballantyne in Bench Talk (5/19/2017) ranking Adam Sandler's "Waterboy" as his favourite sports movie.
After much scrutiny of my rankings of my Top 15 Sports Movies a week ago, I feel it would be a good idea to clarify where these views are coming from. There were several counterpoints made by my fellow writers that were definitely worthy of my acknowledgement, but let me try and justify things.
I made it known at the beginning of my rankings that nostalgia played a big part in the making of this list, thus the variety of that came out when I was a kid ended up dominating it. It was my feeling that my favourite sports movie memories came in my wheelhouse when I was a kid. Maybe that's why I took a movie like Kicking and Screaming over Rocky or Slap Shot, for example. But Space Jam? That's not an upper echelon movie. It's okay, but too much of an awkward embarrassment to me.
Additionally, I fully acknowledge Talladega Nights and Blades of Glory as excellent movies. To be quite honest, if they were actual sports (Equestrian is in the Olympics, there goes that figure skating theory) they may even both be top 5. Maybe my criteria of what a sport is, is an article topic for another day.
Which brings me to Dodgeball…this is a mistake I'll admit to. I have disrespected Patches O'Houlihan and his greatness, dodgeball is a sport and should have been considered for this list. Further, I don't know what the obsession is with Miracle, it's just way too long and the over the top American Nationalism is just a bit much for me. Oh, and that Monkey is way more of a believable athletic talent than that joke of a dog. Air Bud is a Hollywood fantasy, the dog doesn't even have hands for crying out loud, there's no way he could compete in real life. On top of that, his stiffest competition was high school kids. And on the other hand, that chimp signed a pro contract in MVP 2 after grinding away in the Colorado junior hockey system, that's something I can get behind. Who knows, with those genetic similarities we could see a chimpanzee coming up the pipeline to the NHL soon.
Now the main event, The Waterboy at #1. I figured on this platform that this selection would receive little criticism as Bobby Boucher is the embodiment of the Bench Life. He's a castaway, and a guy that was disrespected and never given a chance. But when "foosball" presented itself to Bobby, he opened up a can of whoop-ass and seized his opportunity – a bench warmers dream. Adam Sandler was born for a stupid character like Bobby Boucher and Coach Klein was perfectly cast as a historically bullied football genius as well. In this movie, Bobby Boucher is an embodiment of the philosophy that "defence wins championships", something I believe many can get behind. The one liners and stereotypical jabs at Southern America are hilarious, and "ma-ma-ma-mama says you need to put some respeck" on this movie's name (you shut up, Colonel Sanders). We could all use a little YOU CAN DO IIIITTTTT in our lives, so maybe ya'll are just dehydrated.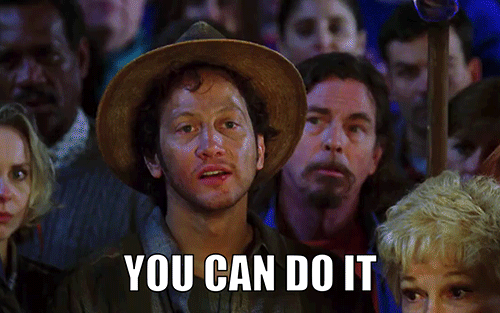 CB: I could keep going on about this, but all I'm going to say is that Rocky and Space Jam both deserved to be on this list, The Waterboy over Happy Gilmore still blows my mind, and your hate towards Air Bud is undeserving.
TW: Hey I respect a difference of opinion. One man's Hoosier's is another man's Water Boy.
I do need to chime in and say that Air Bud is way overrated. He plays 8 different sports by hitting the ball with his nose. All he did was bully little kids on the basketball court/volleyball court/football field/baseball diamond/soccer pitch. Just because Jack the Chimapnzee was pigeon-holed as a hockey player doesn't mean that he couldn't school Air Bud in every sport.
Tweet of the Week
Weekly Power Rankings: Burgess Ranks his Top 5 Worst Jerseys in Sports
5 – Dallas Stars 2003 Alternates
The Stars "Mooterus" jersey was their alternate from 2003 until 2006, and that's about 3 years too long in my opinion.
4 – Los Angeles Kings "Burger King" Alternate
When even The Great One can't make a jersey look cool, you know it has to be one of the worst.
3 – Montreal Canadiens Retro Alternate
Just another thing to not like about this team. This "Barbershop" jersey hurts to look at.
2 – Jacksonville Jaguars Colour Rush
A lot of the Colour Rush jerseys that Nike has designed have been brutal, but this puke coloured disaster is easily the worst.
1 – St. Louis Blues "Trumpets" Alternate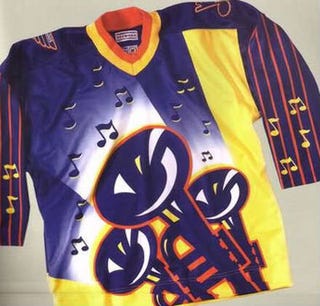 This jersey was so bad that former Blues Head Coach Mike Keenan refused to ever let his team wear them on the ice.
BB: It continues to amaze me seeing these jerseys again how they could've possibly been approved by multiple people to be worn, smh. These are some bad ones for sure. But I also think the old New York Islanders "Highliner Fisherman", the Vancouver Canucks "Orange 'V'" and the Washington Wizards "Duracell Battery" jerseys need some recognition, to name a few.
TW:
The real number 1 has to be the old Chicago White Sox shorts look…
Need I say more?
The 90's had some pretty bad NBA jerseys too.