Where did Andy Dalton go?
I'm not saying that I'm some kind of NFL expert, but I am saying that I've never been seen in the same place as John Madden before. Interpret that how you want to, but regardless, here's my Week 2 NFL recap.
Through Week 2 of the NFL season, a lot of teams are still underperforming. The most notable? The Cincinnati Bengals. With only 9 points through two games (yes, you read that correctly), there are already rumours swirling around the future of Andy Dalton in Cincy.
There's no nice way to put it, he's been awful so far this season. After a Week 1 performance against the Ravens that saw Dalton throw for only 170 yards to go along with 4 interceptions, clearly his play could only get better than that. And it did… but it still wasn't great. Dalton managed to go a whole game without an interception, but also didn't throw a touchdown either as the Bengals went on to lose 13-9 to the Texans on Thursday Night Football to start of Week 2. Now at 0-2 on the season, fans (and maybe some players) are ready to give up on Dalton and sign Kaepernick. Meanwhile, backup QB AJ McCarron seems to be the only person supporting Dalton.
In other quarterback news, Tom Brady returned to his GOAT form in Week 2 against the Saints on their way to a 36-20 victory. At 40 years old, Brady is still putting up some of the best numbers of his career. This performance hopefully put to rest all of the people saying that time had finally caught up with Brady. The Patriots are back on track and still look like the team to beat in the AFC. With Gronk healthy (kind of), Brady finding his rhythm with the receivers, and the defense starting to come together, Patriots fans can relax after Week 2 relieved any stress caused by that Week 1 meltdown against the Chiefs.
While the Patriots are back on track after an uncharacteristic start to the season, the same can't be said from some other teams still searching for answers after their second game of the season. The two teams expected to compete in the NFC West are both searching for answers.
First, the Cardinals are trying to find ways to win without David Johnson in the lineup. Yeah, they beat the Colts this week, but it took overtime to complete the 16-13 victory. Carson Palmer has taken most of the heat for the lacklustre offense, but this isn't the same team that made it to the NFC Championship Game just two seasons ago. Palmer and Fitzgerald are both at the end of their careers, and with Johnson out for the foreseeable future, the Cardinals offense is likely to struggle this season.
The other favourite in that division, the Seahawks, are also off to a rough start this season.  Russell Wilson has been running for his life behind a leaky offensive line, and with a 1-1 record and only 21 points, some fans are starting to worry about the potential for the team this season. The defense isn't as dominant as it was a few seasons ago, when the Legion of Boom seemed almost impossible to score points against.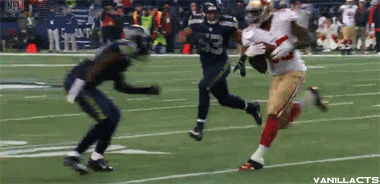 With so much talent on the team, it's hard to imagine that the Seahawks won't find their way into the postseason this year. But Russell Wilson has already been sacked 6 times, and if his O-Line can't help keep him healthy this could turn into a long season for Seattle and their fans.
Despite all of the questions surrounding quarterbacks, somehow Colin Kaepernick is still unsigned while the list of players hoping he gets a chance to play in the NFL gets longer and longer…
Things weren't all bad this week though. Marshawn Lynch finally played at home with the Raiders, and I don't think there was a happier person on Earth this past Sunday.
Lynch helped the Raiders to a 45-20 blowout win over the Jets, rushing for 45 yards and scoring his first touchdown of the year. Despite the AFC West being stacked this year, Oakland looks even better than their 12-4 season from last year, and should find themselves near the top of the entire AFC, if  come January.
---
In case you missed it, check out the Week 1 Recap here.