The Top 15 Most Hateable Current Athletes
In the wake of the NHL All-Star weekend in Tampa Bay, we ease into this week having learned a bunch of things. Connor McDavid is still the fastest skater, Ovie has the hardest shot, Brock Boeser has the most accurate shot, and so on. But maybe the funniest piece we could take away from the weekend is that Brad Marchand is definitely the most hated star in the NHL, or at least the most fun to hate.
This reaction from the crowd in Tampa was pretty hilarious to see, and Marchand handled it very well, much like he would on the ice, with a smug and sarcastic smile. He's clearly embraced his role as a "super-pest", and the best (worst?) part of it all is he can manage to put up 50 points in 38 games while he's at it.
The guy just has such a punchable face, he doesn't even need to try.
Anyways, because of how well Marchand embraced this negative reception at the All-Star festivities, it reminded us all that sports are entertaining because there are heroes, but they're taken to another level of entertainment because of the almost universally despised villains. Every sport has their notable names throughout history, the guys that can not only get under your skin in the mental game, but also run circles around you in the field of play. Throughout sports history we've seen a variety of hateable players like Alex Rodriguez, Terrell Owens, Lance Armstrong etc. But I think it's time to take a look inside the modern day power rankings of the most hated athletes in sports.
Just a note: This rankings list is based on perceptions within a sports context. Obviously the guys that do idiotic criminal things in their personal lives (ie. Ben Roethlisberger, Tiger Woods) are mainly hated for those reasons, but we don't need to get into that here.
Honourable Mentions:
Vontaze Burfict, Cincinnati Bengals
Dez Bryant, Dallas Cowboys
Dwight Howard, Charlotte Hornets
15. Yasiel Puig, Los Angeles Dodgers
I don't know what some baseball people have against personality, but I'd say that's the case here. Puig burst onto the Major League scene in 2013 and his flare has certainly rubbed a few people the wrong way. But in addition to that, the guy definitely has a short fuse and is willing to make an unwelcomed mound visit at any given time.
14. Richard Sherman, Seattle Seahawks
Sherman certainly doesn't take his trash talking lightly and he's easily managed to brand himself as one of the biggest mouthpieces in the NFL. His game may not be at the level it was a couple seasons ago, but "BEST CORNER IN THE GAME" wasn't a stretch, and he would let you know it. Whether you're "a sorry receiver like Crabtree" or a media pigeon like Skip Bayless, no one is safe.
13. Richie Incognito, Buffalo Bills
Incognito just competed in his fourth career Pro-Bowl this past Sunday, but he is much more recognized as the guy that reportedly "hazed" Jonathan Martin so intensely that the man decided he'd rather just quit the game of football. I like to think of Richie Incognito as the O'Doyle brother of the NFL.
12. Ryan Braun, Milwaukee Brewers
It seems like Braun would now have to be considered the poster boy of tarnished baseball superstars since A-Rod retired. Nobody likes a cheater, but a liar and a cheater is bad news, and the former MVP is both when it comes to PED use. The reality is though that he's actually still productive in the wake of that scandal and suspension of 2013. I'm sure that doesn't please too many baseball fans.
11. Nick Kyrgios, Tennis
I bet you didn't expect a tennis player on this list, but this guy is well worthy of this designation. He's the #14 tennis player in the world, an immense talent, already has $6 million in prize money earnings at the age of 22…but he just does not give a shit about tennis at the same time. He's literally said it himself.
He's not new to controversies either, maybe the most tasteful of them all is during a match when he was heard trash-talking his opponent Stan Wawrinka saying "Kokkinakis (another ATP player) banged your girlfriend. Sorry to tell you that, mate". Seems like a classy guy.
10. Grayson Allen, Duke Blue Devils
I'd suggest bubble wrapping yourself if you're going to be in Grayson Allen's vicinity anytime soon. His scrappy style of play and the fact that he plays for the most preppy and hateable school in the NCAA doesn't help his cause. Oh yeah, he's been known to throw out an "accidentally-on-purpose" trip of opposing players a few too many times.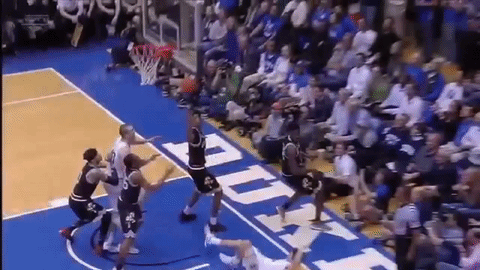 9. Sidney Crosby, Pittsburgh Penguins
I'm not a Sid hater by any means, but this would be the first example on this list of the best player in a given league getting hated on simply because only one fanbase gets the privilege of calling him their own. Sid just wins…he's got three Cups, and countless other accolades. Some people hate because they claim he's a "whiner", but I have yet to hear a Penguins fan make the same claim.
8. Ndamukong Suh, Miami Dolphins
It's a good thing he's one of the highest paid defensive players ever (currently second in the NFL to Von Miller), because he's had to pay out a truckload of money in fines and suspensions for his overly aggressive play. To be more exact, $216,875 in fines plus $187,294 in lost wages due to suspension for a total of $404,169…and that's just from 2010-2014. I can't imagine a guy that was dubbed the "dirtiest player in the league" in a player poll is really one that people would tend to warm up to.
7. Brad Marchand, Boston Bruins
He inspired the list, so of course he had to be on the list. Brad Marchand is a super-skilled, super-pest and the best at what he does in his role. But that certainly hasn't stopped him from getting acquainted with the NHL's department of player safety over the course of his career.
6. Odell Beckham Jr., New York Giants
The over-dramatic, prima donna wide receiver always has a home on this list, and Odell Beckham Jr. is the face of that description in today's NFL. Not only that, if you get in his head (which doesn't seem that hard to do) he turns into a cheapshot machine.
There's a certain kicking net that can attest to this claim, as it was the victim of one of his frequent temper tantrums on the sidelines. Way to get a counter punch in though, kicking net.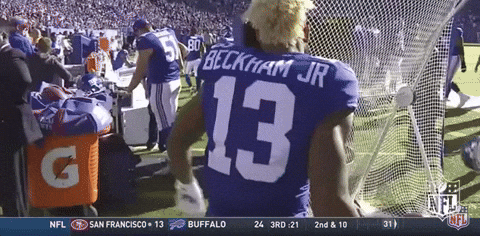 5. Bryce Harper, Washington Nationals
I almost forgot to put Harper on this list, but a fan write-in from a "Sunter H. Trickland" reminded me that he had a place. Thanks for the help, random fan!
Harper isn't afraid to make enemies on the field and he's been known to get chippy with the media as well. He's been hyped up as a future star since he was on the cover of Sport Illustrated at 16 but the thing is, he's delivered on the "prodigy" hype. He won the NL MVP at just 23 year's old (the youngest ever to do so) and is one of the best baseball has to offer in spite of his polarizing personality.
4. Conor McGregor, UFC/Boxing
The only reason Mayweather isn't on this list alongside McGregor is because he's technically retired from boxing after putting the finishing touches on a 50-0 career record at the expense of the Irishman. I for one respect how great of a promoter McGregor is for himself, but his arrogance and big mouth are definitely hateable qualities and the whole routine of his can get agitating very quickly.
3. LeBron James, Cleveland Cavaliers
The self proclaimed "King", the man who brought us "The Decision", the countless "me's", "I's" and self-pats on the back. Coupled with the yearly NBA Finals trips, the excessive and constant whining to referees, even when he seemingly receives calls no other player would receive. He's hard to like sometimes, maybe more than sometimes, but he's the best the game of basketball has ever seen. So who are we to say anything?
2. Tom Brady, New England Patriots
Tom Brady is the human embodiment of James Franco's timeless words:
That's right, we hate him because we ain't him. Simple as that. The dude is the best Quarterback of all time, he's about to have more Super Bowl championship rings than one hand can contain (yeah, I just called my shot), he's got a model for a wife and he could be a model himself. None of us will ever be that good at life…and we hate him for it.
1. Kevin Durant, Golden State Warriors
This story is still relatively fresh and it's one of the most talked about sports villain topics ever. We all know how it panned out, in 2015-16 Kevin Durant was with the OKC Thunder, he and his team lose to the best regular season team in NBA history (Golden State, 73-9) in the Western Conference Finals, he then turns around as a free agent and signs with the already loaded Warriors team in free agency. He eventually goes on to win a championship the next season in 2016-17. OKC fans are bitter, Russell Westbrook is pissed and everyone believes he took the "easy way out". Which led to him being referred to as "cupcake" by many.
It all could've ended there, but more recently Durant has been alleged of creating "burner" social media accounts that he personally would use to hype himself up and argue with fans that trash talked him in the comments. Maybe the single most petty and pathetic act in sports history.
The thing with each of these athletes listed is there's something about them that makes sports more entertaining. Whether we like them or not these kinds of personalities are here to stay, and we as all-consuming sports fans should be more than willing to enjoy the "suffering" through their presences.