March Madness for Dummies
My favourite month of the year is here and that's because March Madness is finally here. I've recently dropped out of high school after a bit of March Madness of my own with the CWDHS Falcons and our OFSAA run. Now I have a ton of free time and with it I have been filling my days watching college basketball. This has made me a bit of an expert (?) since I've been following the storylines leading up to the tournament. So I decided to create a guide for casual college basketball watchers, or even people that just fill out a bracket in their office pool that lose to Susan from sales every year. Dammit Susan!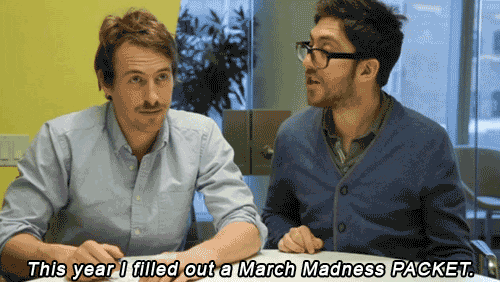 Rest vs. Rust
This will be an argument that is heard a lot in the first weekend on the tournament depending on the success or failure of the Big 10 conference teams. The Big 10 will have four teams in the tournament (Michigan, Michigan State, Purdue & Ohio State) and all of them are expected to do very well. Purdue and the Michigan are even expected to contend for the Final Four.
The major debate of "rest vs rust" will be talked about because the Big 10 conference tourney took place a full week before the other major conference tournaments. These major teams will have a full week more than other teams to prepare and get healthy. This seems beneficial but could be hurtful for a team like the Michigan Wolverines who were playing their best basketball all year leading to the conference championship and would've loved to keep the momentum going. I would look for one of these teams to not advance past the first couple of rounds because of the extended wait and I would bet on Michigan State being that team. They rely a lot on three point shooting ranking fifth in the country in three point percentage and if that dries up they are in big trouble.
Duke Hate
Unless for some reason you have been a Duke fan your whole life you are supposed to hate them and should. They are a fun team to watch when they are rolling but Grayson Allen is back to his old ways and is the perfect guy to hate.
Man this guy sucks.
That team with the cool Jerseys
Oregon almost always have the best jerseys in college basketball but they're not even in the tournament this year after making the Final Four last year. If you do want to pick a team based on cool jerseys look no further than 13th seed in the East bracket, Marshall University. They'll be in tough against Wichita State in the first round but their cool green jerseys pop.
Notable Canadians
Oshae Brissett (Syracuse)
Oshae Brissett is from Mississauga Ontario and is one of Syracuse's best players. Although the legitimacy of Syracuse being selected for the tournament is up to debate, they are nonetheless here and they are pretty good. Brisset averaged a whopping 38 minutes a game for the Orange this year with 15PPG and 8RPG.
Shai Gilgeous- Alexander (Kentucky)
Shai is from Hamilton and his name is too long for me to type again so from this point on he will be referred to as "he" and "him". He is a rising star for Kentucky and has been shooting up the NBA draft boards. He had a great SEC tournament and almost every play on offense went through him. He is definitely one to watch and if Kentucky goes on a run look for him to be at the center of it.
Celebrities
When watching March Madness there is nothing better than the celebrity cameos. A lot of middle aged women will be disappointed to not see Julia Louis- Dreyfus–or Elaine from Seinfeld–this year despite some of the promos seen on TV. Her son plays for Northwestern and they did not make March Madness because quite frankly they suck.
We will see Bill Murray again this year after he represented Xavier last year where his son is an assistant. But this year he seems to be a fan of the underdog team College of Charleston so I can't imagine him to stop following the team at this point. There are also the usual athletes and former athletes that attend with Magic Johnson and current NBA player Draymond Green often found at Michigan State games and the occasional Tom Brady sighting at Michigan.
The hot final four pick
Purdue is as good a pick as any to make the Final Four because they are a very talented veteran squad that plays a fast pace and tough defense. They also have Isaac Haas in the post who is an absolute beast.
Sleeper
San Diego State
The Aztecs are really good and have a good shot at beating Houston in their opening game. They were 3-1 versus teams ranked in the top 25 and are riding a nine game win-streak heading into the tournament which are both good indicators of upset potential. San Diego State has a decent offense but make their money with a very tough defense that pressures teams all over the floor.
WTF Mascot
Look no further than the creepy Providence Friar. This is what nightmares are made of folks. I have no idea why this guy exists and I think they could have at least closed his mouth to make him less creepy but I don't even know if that would help.
The Football School
If you just watch college football but not basketball the "Football School" to watch this
year in March Madness happens to be the best football program in America. Alabama is a real threat to watch out for in this tournament. They have a real tough road to make the Final Four having to go through Virginia Tech and Villanova who are favourites to win. They are really exciting to watch because they a have a sure-fire lottery pick in the upcoming NBA Draft in Collin Sexton. I will let the tape speak for itself.
All in all I'm very excited for the tournament this year. My friends and family probably won't see me for a couple of days as I will be glued to my TV and swept away by the Madness.