If You're A Fan of the NHL, You Should Hate the Vegas Golden Knights
Why don't we all give a round of applause for the Vegas Golden Knights. Wow, what a great season it's been! Proving all the doubters wrong. Incredible. Just remarkable, wow!
Alright, now everyone shut up.
I've had enough of all of this "success" and if you're a fan of virtually any other franchise in the league, you should be fed up too (save for the Penguins maybe, because you don't have much to complain about). Why? Vegas has single-handedly made the NHL appear as a complete joke and the worst part of all is the league basically did this to themselves. Gary Bettman has to know this, and I'm sure he's cheering his bag off on the inside for the Sharks to pull off a series win and finally beat this Golden Knights team. Early returns aren't encouraging for the Sharks. Especially not good after that 7-0 shellacking last night in game one of the second round.
Here's the thing, everything was all well and good in the early goings of this process. It was a cool story. I'd never experienced an expansion draft as a hockey fan because the last expansion had taken place when I was just three and a half years old (Columbus, 2000). It's clear the league had seen expansion drafts before, but we had apparently never seen something quite like this because this team was going to be "much more competitive than any other expansion team we've seen". How cute, maybe they won't finish last. But it was still an edgy pick to even have Vegas finishing inside the top 30 of 31 teams. Why wouldn't you have them there though. What other precedent did we really have to base things off? 
Then early season success comes along and the narratives begin to form, because…how are they doing this?
"It's just a driven group of castoffs banding together to prove their haters wrong!"
Well, no. That doesn't really fly. If I was an NHL general manager of the currently established thirty teams, I'm pretty sure that ideally I'd want to actually keep my players and not have them stolen from me. Crazy thought I know. I'm just saying, it's not as though these players were actually castoffs. Vegas is known for its gambling, but this was just robbery that management groups around the NHL could do nothing about it.
"Alriiiight (not that they a choice really), come on in Vegas. How about you take a few of my bad contracts so I can improve my team now and you get to improve your potential for down the road!?"
The only issue you can have with how your GM handled expansion is the decisions they made regarding which players they exposed to Vegas' expansion or the deals by some to give up more in order to steer Vegas away from certain players. That criticism is more than fair. But the majority of those moves involved picks that looked as if they'd benefit Vegas in the FUTURE so that they can BUILD towards the playoffs. This was the consolation scenario of welcoming a new team to the NHL "club", you wouldn't have to actually worry about them actually beating you for now.
Once again, obviously teams didn't want to "get rid" of players (Except for maybe David Clarkson). These players were taken from the other teams, and you know why they were okay with it? Because Vegas was going to SUCK anyways. But hold the phone now–as it turns out they somehow don't suck. So now it's like every GM got stabbed in the back by a Wal-Mart greeter (the NHL) and then kicked in the teeth by the yodeling kid (Vegas) who was supposed to nurse them back to health with his sweet, sweet melodies.
It's crazy what hindsight can do, isn't it? Prior to the expansion draft, the critique was that Vegas didn't have any elite talent other than goalie Marc-Andre Fleury, it was just a roster filled with middle tier NHL players. But looking at it now, that just kind of just sounds like depth to me. How many organizations don't have fourth lines or bottom pairings they're iffy about? Vegas didn't really have that worry. They lacked the top tier talent but had a foundation. As it turns out, growth from players like William Karlsson gave them the peak production that they needed. This model ended up giving Vegas a decent floor with the ceiling to match. Depth and goaltending are clearly the keys in this sport and the expansion draft handed this to Vegas on a silver platter. How were we so blind? This entire process has made executives across the league look like a bunch of buffoons. It really is pretty embarrassing for the NHL that this group can waltz into this position on their first attempt when other teams would sacrifice almost anything to be in their current position. And no, this commentary has nothing to do with the fact the Leafs haven't made the second round since 2004…I think.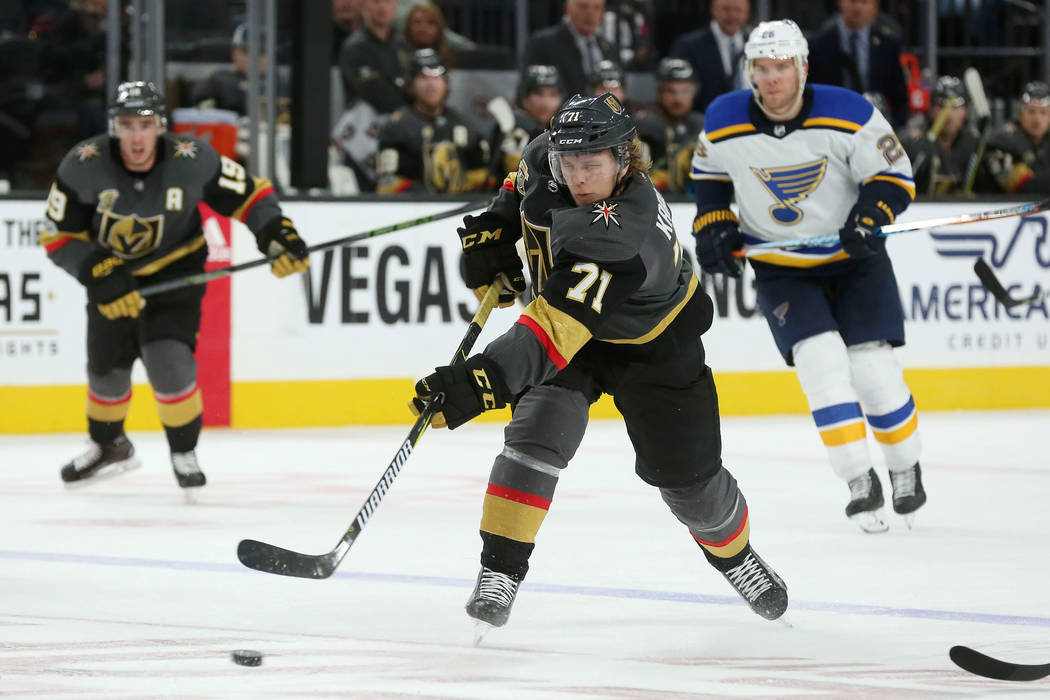 Don't play the "everybody loves an underdog story" card either. There are multiple great underdog team stories in sports entertainment culture: The Mighty Ducks, Moneyball, Little Giants…I really could go on and on. Each of those listed has one definitive thing in common: the teams were all total garbage at the start of the movie. Basically, they had to pay their dues before things worked out at the end and sometimes even the underdogs didn't even go the distance.
For example, the 2001 Oakland A's were the basis of "Moneyball" and their happy ending was losing in the first round of the playoffs. They had a HOLLYWOOD MOVIE made for them and all they did was make the playoffs…and you know what, I was perfectly satisfied with that story. They started from rock bottom, changed their approach and saw some success.
The Golden Knights are NOT underdogs because this is literally their first season. Their success doesn't even make sense, it's like a sports movie you can't even enjoy because everything is too perfect within the storyline; where's the adversity in this season? It's a season that sees them currently up 1-0 in the second round of the playoffs in case you had forgotten. This doesn't feel like starting at the bottom to me.
The mere thought of a Vegas Golden Knights fan in general just has me sick to my stomach. They've been a fan for six and a half months and you're seeing this much success right off the hop. This is not how it's supposed to work. How can the playoffs not be the minimum expectation for them heading into next season? God forbid they win a Cup in their first ever season. Do me a favour and put yourself in that position for a second.
Imagine, you're a NHL hockey fan for the first time in your life and the peak of all elation in fandom happens within 8 months of the beginning of your allegiance. Can you truly have developed the emotions to fully appreciate a Stanley Cup in that short time period? You've reached the peak immediately, the rest of your life as a fan will be a steep letdown for years to come. This is a terrible scenario for the NHL.
The legend of the Stanley Cup and the fact that it is one of the hardest trophies to win is why fans keep coming back. "Maybe this is finally our time", an expanded league just adds further improbability to this dream scenario for a fan, but at the same time adds more value to the trophy. How guilty would you feel as a Vegas fan years afterwards if you realized you never fully appreciated your championship in the moment?
Ray pretty much sums it up. Look at other major pro leagues and their most successful expansion franchises: the 2001 Arizona Diamondbacks managed to win the World Series in their 4th season, the 1971 Milwaukee Bucks won in their 3rd (they also had Kareem Abdul-Jabbar and Oscar Robertson on the same team) and the NFL has no example anywhere near that. It's just a ridiculous look to see an expansion team succeeding this much from day one. Apparently all you need is $500 million and Gary's new set of rules and you're "Golden".
I just continue to shake my head at this, how ridiculous is it going to be when there's a ceremony in Vegas at the start of next season to raise a banner right beside their "inaugural season" banner. You already know they've already ordered in the Pacific Division champions banner, who's stopping them at a Western Conference Champions or Stanley Cup Champions one? Well it's certainly not me, there's clearly nothing my predictions against them can do.
There's one final piece that sickens me about the Vegas Golden Knights: this isn't a one-off. While this season was supposed to be a wash for the expansion team, it hasn't been. But that doesn't mean the path for their future has changed at all. This team is set up to succeed in the years to come arguably better than anybody else in this league. I say arguably, but there's really no argument for the other side. The Vegas roster is already filled with hand-picked, affordable, young talent (in a league where cap control/flexibility is heaven) that has led them to a 5-0 postseason start in the franchise's existence. They have two 1st round picks, six 2nd round picks and four 3rd round picks still to come over the next three drafts, this coming after they had selected four times in the top 34 in 2017. This next wave is going to hit the league hard, and the NHL may have just completely shifted the power structure of the league for a while with this nightmare.
I know this is a cynical look at things, but if you're a fan of any other NHL team or a promoter of the league in general, I just can't understand how you can justify cheering for Vegas. Somebody end this now so we can somehow mentally prepare to do it all over again with Seattle in 2020.