The Jersday Blog December 13, 2018
The Jersey Round-Up
Troy Tulowitzki Colorado Rockies Jersey
This one hurts. Just a week ago I professed my disappointment with Tulo's Blue Jay era and now, with the snap of a finger, he's gone. Paid $38 million to stay out of Toronto. Well pull up a chair. Back in my day Tulowitzki, Matt Holiday and Jeff Francis were the best players on the 2007 World Series runner-up Colorado Rockies. From 2007 to 2014 here are the top 5 shortstops based on Fangraphs WAR:
1. Hanley Ramirez 36.5
2. Troy Tulowitzki 33.4
3. Jose Reyes 30.6
4. Jimmy Rollins 30.2
5.  JJ Hardy 24.0
Believe it or not Tulowitzki used to not stink. In fact he was actually awesome. Good luck with your future endeavours Tulo. I hope you find your peace playing second base for the Oakland A's.
Joffrey Lupul 2014 Winter Classic Toronto Maple Leafs Jersey
Say what you will about Brian Burkes tenure as Toronto's GM, but the guy made some shrewd trades. Feast your eyes on this home run:
2011-Feb-09  Anaheim Ducks trades Joffrey Lupul, Jake Gardiner and round 4 pick in the 2013 draft (Fredrik Bergvik) to Toronto Maple Leafs for Francois Beauchemin
For the price of a 30 year old Beauchemin the Leafs got 2 solid seasons out of Lupul–67 points in 66 games in an All Star 2011-12 season and a 22 goal 2013-14 season–and many good seasons out of Jake Gardiner (he may throw the odd pizza up the middle but more often than not Gardiner is very effective).
The Winter Classic game was one of the few highlights of the 2013-14 season. A 3-2 shootout win over the Red Wings on January 1st at the Big House in Ann Arbour really kicked off 2014 with a bang. The Leafs would finish the season 38-36-8 missing the playoffs altogether which was pretty par for the course.
In terms of Winter Classic jerseys the 2014 look was alright. There are too many stripes for my liking. But Toronto bias aside any Leafs jersey has looked like a classic and this jersey is no exception. At the time I almost sprung for a Jonathan Bernier Winter Classic jersey which would've been par for the course for me.
Alex Barkov Florida Panthers Jersey
Barkov is quietly one of the best centres in the NHL and it's crazy that there's not more buzz around the guy. He had 78 points in 77 games last year and he is on a point per game pace once again this year. MacKinnon and Seth Jones get more of the buzz from the 2013 draft and deservedly so. But Barkov is not far behind at all.
Also shout out to Florida's newest look as the only jersey in franchise history to not look like a Walmart special. The Canadiens-esque stripe down the middle that most teams are using looks sharp. The switch from yellow to gold and emphasizing red over the navy has been a great call.
Odell Beckham Jr. New York Giants Jersey
Here's a brief synopsis of OBJ's young career so far: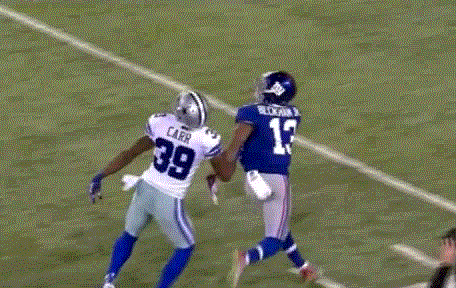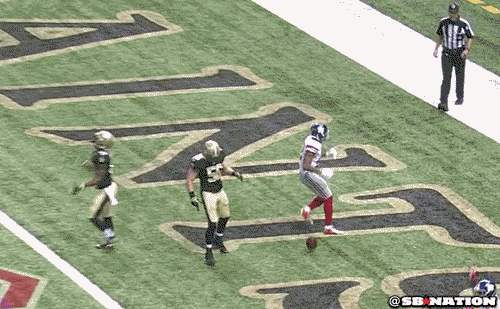 Say what you will about Odell, nobody can deny that he is a fun and talented player. Love him or hate him the guy puts asses in the seats. Off the top of my head here's a quick top five Giants I would get a jersey of:
1. Saquon Barkley
2. Strahan
3. Lawrence Taylor
4. Odell
5. Victor Cruz
1997 NHL Eastern Conference All Star Jersey
A lot of NHL 90's jerseys went from cool to ugly and tacky and now they're just cool. The San Jose themed '97 All Star jersey is a cool get. This one doesn't have a name and number on it so here's a list of guys who could've been on it:
Starting Lineup:
 2 – D Brian Leetch (New York Rangers)
 10 – LW John LeClair (Philadelphia Flyers)
 22 – RW Dino Ciccarelli (Tampa Bay Lightning)
 34 – G John Vanbiesbrouck (Florida Panthers)
 77 – D Ray Bourque (Boston Bruins)
 99 – C Wayne Gretzky (New York Rangers), Captain
Commissioner's Selection:
 15 – C Dale Hawerchuk (Philadelphia Flyers)
 32 – C Dale Hunter (Washington Capitals)
Reserves:
 4 – D Scott Stevens (New Jersey Devils)
 7 – D Paul Coffey (Philadelphia Flyers)
 8 – RW Mark Recchi (Montreal Canadiens)
 9 – RW Daniel Alfredsson (Ottawa Senators)
 11 – C Mark Messier (New York Rangers)
 12 – LW Peter Bondra (Washington Capitals)
 16 – D Scott Lachance (New York Islanders)
 18 – LW Geoff Sanderson (Hartford Whalers)
 21 – C Adam Oates (Boston Bruins)
 24 – D Robert Svehla (Florida Panthers)
 30 – G Martin Brodeur (New Jersey Devils)
 39 – G Dominik Hasek (Buffalo Sabres)
 44 – D Kevin Hatcher (Pittsburgh Penguins)
 66 – C Mario Lemieux (Pittsburgh Penguins)
 88 – C Eric Lindros (Philadelphia Flyers)
Jackie Robinson Brooklyn Dodgers Jersey
This is a cool jersey. The Dodgers look is timeless and Jackie Robinson is on the Mount Rushmore of Dodgers ethos. As the first African-American player to play in the big leagues Robinson is a legend that really doesn't need an introduction.
The movie "42" that came out in 2013 was solid. My brother does a great impression of Harrison Ford playing Dodgers owner Branch Rickey where he contorts his face and growls "baaaasebaaaall" in a raspy voice while pretending to smoke a cigar. Take my word for it, it is spot on. If you haven't seen the movie yet definitely check it out.
Jersey Dump