The Jersday Blog January 10, 2019
The Round-Up
German National Hockey Jersey
In the 2020 World Junior's Germany is back in and Denmark's gonna be watching from home. I can't imagine the German's tournament will last long considering this year's backwards results has left Germany in the group of death:
Yeah definitely not ideal.
In honour of a sweet jersey and an 2020 elimination in advance, here's the best of what the German hockey machine has churned out.
Sure you can have your Draisaitls and Kolzigs. The Uwe Krupps and Korbinian Holzers are what German hockey is all about.
Jean-Gabriel Pageau Alternate Reebok Ottawa Senators Jersey
These are by far the best jerseys that have been in Ottawa's rotation. The striped look is one of my favourite looks. It makes any team, even a 90's Senators expansion team, look like a classic. Also I've never been sold on the roman centurion logo. I don't know if you've ever seen a member of the Canadian senate but they certainly aren't leading hundreds of legionnaires into battle.
As for JG Pageau, I always appreciate an off-the-board jersey selection. On most good teams Pageau would be an effective middle six forward. On a bad team Pageau is the lead penalty killer, the go-to faceoff man and scores in bunches.
Rick Nash 2003-07 Era Columbus Blue Jackets Jersey
The classic Koho jersey with the neon green still mixed into the Blue Jackets colour scheme. Kind of ugly yet sublime.
For over a decade Rick Nash was the only reason to scoop up a hockey ticket in the state of Ohio. The 6 time all-star and 2004 Rocket Richard winner did nothing but put the puck in the net for the hapless Blue Jackets. Here's a taste of his supporting cast for his time (2002-2012) in the Buckeye state.
Too many people remember recent Nash years as a washed-up goal scorer on the Rangers (save for his 42 goal 2014-15 season). But with the Blue Jackets he was one of the best scorers on the planet despite being flanked by elite teammates like David Vyborny, Christian Huselius and Geoff Sanderson. While he hasn't officially announced it yet, it looks like 34 year-old Nash is likely done in the NHL. Pour one out for Columbus's first real star in franchise history.
Jersey of the Week:
Baker Mayfield Oklahoma Sooners Jersey
This is a huge jersey. Mayfield is one of the best young talents in the game and also one of the most popular players. I'm a huge fan of any pro athletes' college/junior/minor league jersey. Cleveland Baker will probably win offensive rookie of the year. But Oklahoma Baker rode bunches of touchdowns, passing yards, wins and big time cellies to a Heisman.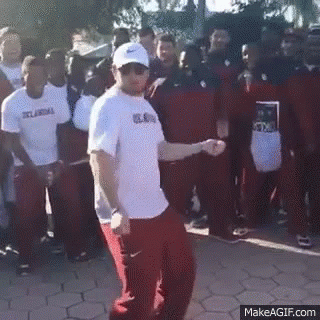 The Weekly Jersey Dump
Meh. Not the best. Not the worst.
We get it. People like PK Subban. Josi and Rinne have both made all star teams before so I don't really understand the ceremony or point of this video. This isn't Subban giving a jersey to some Make-A-Wish kids. Nice Adidas infomercial.
I'd make these the permanent 3rd jerseys.
Happy Halloween.
These jerseys are unreal. The throwback look conjures up images of Kurt Warner fresh out of the Arena Football League as the front man for The Greatest Show on Turf.
I though Dallas had a chance before I saw this tweet. Rams by 21.