Jersday Blog January 24, 2019
The Round-Up
Milan Lucic Winter Classic Boston Bruins Jersey
How many Bruins jerseys does this guy have? Each week Burgess pumps out a new one out of the vault that Tim Thomas built.
Despite the $42 million albatross of a contact Lucic currently carries and his lowly 5 goals in 50 games, there was a time he was one of the games premier power forwards. From 2011 to 2015 Lucic scored 105 goals with 253 points, 503 PIMs and 1006 hits in 367 games for the Bruins. The guy hit hard (and illegally), was always ready to throw off the gloves and knew how to plant himself in front of the net.
In his prime Lucic was one of the league's most hateable players. I can see why Bruins players would like him. It's the same reason they'll defend Marchand to the death. They're all morons.
Albert Pujols St. Louis Cardinals Jersey
Another example of an albatross contract that overshadows a player's former greatness. Sure a lot of people remember him as an all-star. But there's a whole generation of baseball young fans that don't necessarily remember him as one of the best first basemen of all-time and the third-best hitters of the 2000's (I'd put him behind A-Rod and Barry Bonds). From 2000 to 2010 Pujols was second in the MLB in fWAR with 77.5, second in wRC+ with 169, second in home runs with 408, first in batting average with .331, third in OBP with .426 and second in slugging with .624.
To sum it up, Fat Albert was a stud. When he does retire Pujols should follow suit with Mariano Rivera and get in unanimously.
This is a great jersey. The St. Louis Cardinals have a classic, timeless look that still plays in 2019. And of all of the greats to suit up for the Cardinals, Albert is at the top for me when it comes to jerseys.
John Tavares New York Islanders Jerseys
This guy must've been hit hard in July. Well for anyone keeping track at home, the Islanders are going into the All-Star break in first in the Metropolitan with 63 points while the Leafs are second in the Atlantic with 62 points. Anyone that thought the Islanders were dead in the water without Tavares (hand up I thought they were toast) can go eat crow. The Islanders have the least goals against with 118 due to surprisingly one of the best goalie tandems in the NHL (where the hell did Lehner and Greiss come from?!) and a sturdy system put in place by Stanley Cup winning coach Barry Trotz.
But at the end of the day…
Suck it.
Jersey of the Week
Larry Bird Boston Celtics Jersey
Larry Legend. The Hick from French Lick. This jersey gets a tonne of appreciation from Celtics fans, middle-aged white dudes, and college kids on St. Patties days alike.
This jersey gives me visions of championships, mullets, step-back jumpers, no-look passes, Converse sneakers and short shorts. The white, gangly assassin is unintentionally one of the most gifable basketball players of all-time.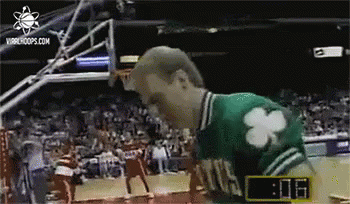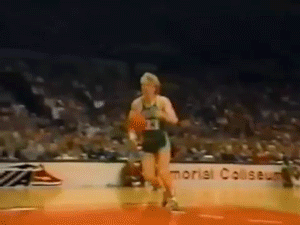 Slow, methodical and elegant. The Larry Bird way.
The Weekly News Dump
I give the early advantage to the Rams on this one.
The mashup nobody asked for. I'd rock a Ryan Getzlaf Angels hockey jersey.
I'm in on these as long as Rougned Odor isn't involved. I hate that guy.
Early impressions… these are solid… but kind of boring… kind of like the Twins.
The 80's were a wild time for basketball. Everyone was on coke and sometimes jerseys went missing. What a time.
This year's Hall of Fame class is awesome. Mussina was one of the American League's best starters throughout the 90's. Edgar Martinez is arguably the best DH of all-time (all of the Ortiz stans need to drop the pitch forks already). The best closer of all-time is the first unanimous vote-in in Hall of Fame history.
And my boy Doc Halladay rightfully got in on his first try. Now I wish he was going in as a Blue Jay, it doesn't change the fact that he is the best pitcher in franchise history, one of the best pitchers in the league for over a decade and a universally beloved player in both Toronto and Philadelphia.
Quack quack Mr. Ducksworth.
That settles it. I need an O'Dog jersey.
So much respect between these two. Great for the game.