Remembering Five Random Blue Jays: Instant Impact
Ben Revere
I know the analytics don't look kindly on Ben Revere types. Speedy, slap-hitting, walk-allergic players have a very slim margin of error. You pretty much have to be a .300+ hitter in order to be on the right side of the ledger. Luckily the Jays got Revere for the best three month stretch of his career.
A 2015 Jays lineup full of pop, Revere's speed added a nice compliment and gave pitchers something extra to think about when he got on base. A late season pick-up in 2015, Revere hit .319/.354/.381 in 56 games for Toronto down the stretch. He cooled off a bit in the playoffs, but by no means do I look at Revere's time in Toronto as nothing short of electric.
When I was looking up pictures for this blog I came across this picture with the headline, "Ben Revere criticizes 'terrible' ninth inning strike zone after Blue Jays loss."
My blood still boils thinking about that Game 6 against the Royals in the 2015 ALCS. I vividly remember throwing stuff around my apartment in Thorold, Ontario and screaming when that Amish Royals fan decided to reach over the rail, then the home plate umpire Jeff Nelson decided to call every object thrown towards home a strike. Revere got hosed. Nelson then literally called a pitch at Dioner Navarro's eyes a strike. I hate the Royals.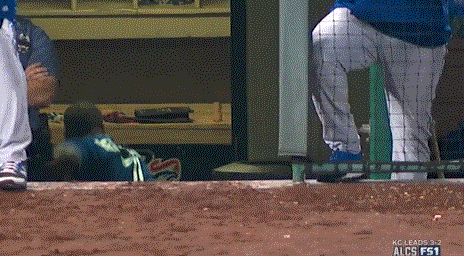 Eric Hinske
2002 American League Rookie of the Year with Toronto, three time World Series Champion (2007 with the Red Sox, 2009 with the Yankees and 2016 as assistant hitting coach with the Chicago Cubs), and one of the worst tattoos in sports.
For a pretty unremarkable player, Hinske's trophy case is loaded. The epitome of "right place at the right time." Once considered a significant piece of Toronto's core of the future, the Jays unceremoniously dumped him off in Boston for money in '06 and Hinske made a career of being a platoon hitting gun-for-hire. Good for him.
Jon Rauch
One of many Toronto closers of the 2010's (they gave him some run in the middle of the 2011 season before mercifully getting knocked down the pecking order). Mostly known for being a 6'11" behemoth and looking scary as all hell. Not an overly effective reliever in his one season for Toronto. but they can't all be winners. At least Rauch left us with one of the funniest "hold me back" fights in baseball history.
Matt Stairs
The pride of St. John, New Brunswick played 230 games for the Blue Jays between the 2007 and 2008 seasons. The guy was listed at a robust 5'9″ 200 lbs (weight seems generous) and swung like a bona fide lumber jack. He was also the center of a big argument in our latest Sunday Shootaround podcast.
People forget that Stairs is the all-time pinch hit home run king with 21 in his career. The guy was an absolute unit and is third all-time in career home runs hit by a Canadian with 265.
Steve Pearce
Yesterday to the shock of many, Steve Pearce announced his retirement. I've always been impartial to players shaped like fridges who could hit the ball like cement mixer and Pearce was no exception. It's a shame he was so dinged up in Toronto that his subpar left field defense over-shadowed his awe-inspiring bat. One game I attended, I swear Pearce hit the loudest foul ball these eyes have ever seen. We're talking fifth deck.
When Toronto traded him to Boston, many were shocked when he won a World Series MVP. But I was not. I was vindicated for years of excuse making. Fun fact with no fact checking: Steve Pearce might be the only player to play for all five AL East teams. As I said, I did not fact check this. Good night sweet prince. Enjoy retirement.