The Jersey Blog Week 15
I'm starting to run out of steam with this blog series, but for now I'm still standing. If you want in on the blog, be sure to DM pictures of your favourite jersey to one of the Bench Life Social accounts every Wednesday night.
Jersey of the Week Submissions
Fifth Place
Tom Brady Alternate Red New England Patriots
Even though I embrace my role as a Patriots and Tom Brady hater, their red jerseys are by far their best look. A Brady jersey isn't too uncommon which is why it gets a low grade here, but it's a solid jersey nonetheless.
Fourth Place
Rafael Palmeiro Baltimore Orioles
When you think steroids, your mind immediately jumps to Barry Bonds, Jose Canseco, Mark McGwire and Sammy Sosa. Almost lost in the shuffle, but arguably just as notorious is Palmeiro. While he was only a four-time all-star, he still would have had a bit of a case for the Hall of Fame discussion had he not done roids. The guy was super durable, playing 19 seasons, was top ten in MVP votes three different seasons and is one of six MLB players ever to be a member of both the 500 home run club and 3,000 hit club.
While he'll never get into the Hall of Fame, you can certainly raise his jersey to the rafter of the Juicing Hall of Fame. He'd be a second ballot guy at the very least. I kind of love this jersey since you don't see to many in the wild. It kind of makes me want to go out and scoop up the jerseys of other roids guys.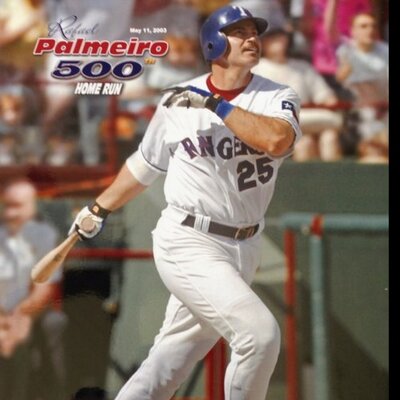 Anyways, here's a video of Palmeiro hitting a dinger in independent baseball at age 53.
The Podium
Bronze Medal Jersey
Brock University "Generals" Throwback Hockey Jersey
Shout out to the Steel Blade Classic games. While Brock may be in the minority for Ontario universities without a football team, their Homecoming headliner was pure electricity. Cram a bunch of drunk students into the Meridian Center for the pre-season showdown against (usually) the Guelph Gryphons and the place was usually jumping. The crowd could seamlessly carry on singing "Living on a Prayer" by Bon Jovi two verses after the music stopped playing. Not to mention the pop of the crowd when Brock would score a goal was only exceeded by the first fight of the game.
This Brock Generals jersey was a limited time 50th anniversary release making it as rare as it is just a flat out clean look. I'd love to rewind the tape and attend another Steel Blade game as a university student again. But, as girls used to tweet in highschool, don't cry because it's over smile because it happened.
Silver Medal
Ja Morant Memphis Grizzlies Vancouver Throwback
The old Vancouver look is a 90's relic that has aged incredibly well like the old Phoenix Coyotes kachina jerseys. These past five years, 90's nostalgia has been at an all-time high for sports fans with plenty of teams recycling old looks. I'd place the Vancouver jerseys sandwiched between the Purple Raptor and the Purple Jazz jerseys.
Also if you're going to get a current Grizzlie on the back, you have to go with Ja. The guy is a human highlight reel, flashing the speed of a young Derek Rose with the dunking ferocity of a Westbrook. He's only 21 and has a long way to go before you can legitimately use his name in the same breath as Russ and Rose. But the early returns have been promising.
Jersey of the Week
Mats Sundin Quebec Nordiques
The biggest trade in Toronto Maple Leafs history, was trading one of it's most iconic players in Wendel Clark to Quebec for Sundin. There were other pieces on either side of the trade but they were, for the most part, irrelevant. Old Clarky was a little washed up at the time whereas Sundin was 22 years old and coming off of a 32 goal, 85 point season for the Leafs. The fact that Sundin became arguably the best Toronto Maple Leaf of all-time made it one of the biggest fleece jobs of the past 30 years.
The old Nordiques look was an iconic one, and seeing a Sundin one makes you wonder what the Nordiques/Avalanche would've looked like had they had Sundin long-term with Joe Sakic and Peter Forsberg. The franchise had two Stanley Cups without Mats, imagine how many they'd have with thirteen more years of the big Swede.
Jersey of the Week Standings
Phil gets his first gold medal of the jersey competition and Shlok chips away at Adam's lead by a point. We'll see if the race starts to heat up.
Jersey News Round-Up
Halladay, Wells, Rios, Hill, McDonald, Hill, Glaus, Burnett, Chacin, Overbay, Hinske, Catalanotto, Gibby, Downs, Accardo, BJ Ryan…