The Jersey Blog Week 19
From Jumbo Joe to Burnaby Joe, Week 19 looks like it'll be a good one. If you want in on the blog, be sure to DM pictures of your favourite jersey to one of the Bench Life Social accounts every Wednesday night.
Jersey of the Week Submissions
Fifth Place
Detroit Tigers Batting Practice Jersey
The MLB batting practice jersey is a low-maintenance, clean look that absolutely plays in the summer. Beaches, barbecues, lakeside or just playing spikeball in the backyard.
If you were to toss a name or number on the back of this puppy, here's a quick power-ranking of mid-2000's Tigers:
1. Miggy
2. Verlander
3. Scherzer
4. Granderson
5. Price
6. Prince Fielder
7. JD Martinez
8. Kinsler
9. Castellanos
10. Some combination of Justin Upton/Tori Hunter/Victor Martinez
Fourth Place
David Ortiz Boston Red Sox
Papi is definitely on the Mount Rushmore of 21st century Boston athletes along with Brady and some combination Paul Pierce, Kevin Garnett, Rob Gronkowski, Patrice Bergeron, Zdeno Chara, Pedro Martinez, Jon Lester, Dustin Pedroia and Manny Ramirez.
In the conversation with Edgar Martinez for best DH of all-time. Also a candidate for one of the best post-season hitters of all-time.
The Podium
Bronze Medal Jersey
Kyrie Irving Duke
While I'm not a Kyrie fan in the slightest, there's no denying the coolness of this jersey. In past blogs I've already talked about Kyrie's insane handle. As a college player, Kyrie was a one-and-done guy for the Duke Blue Devils. You wouldn't be in the minority to forget his college career considering he missed most of the 2010-11 NCAA season with an injured toe. He returned in time for the 2011 March Madness tournament and carried Duke to the Sweet Sixteen before losing and bouncing from the tournament.
Kyrie entered college in a one-two-three dead heat with Harrison Barnes and Jared Sullinger for top highschool recruits of 2010. And, despite limited college tape, showed enough for the Cleveland Cavaliers to take him first overall in the 2011 NBA Draft.
Silver Medal
Jaromir Jagr Pittsburgh Penguins
Jagr kind of gets lost in the shuffle in the hockey GOAT conversation. He's second all-time behind only Gretzky with 1,921 regular season points. He's also third all-time in goals (766), fifth in assists (1155), third in games played (1,733) and has sole possession in most career game-winning goals (135), and the most goals, assists and points scored by a European-born player. Once you also tally up the two Stanley Cups, 1999 Hart trophy, five Art Rosses, thirteen all-star games the resume looks more and more impressive. Once you take into consideration the time he missed due to the 2004-05 lockout and the three season KHL exodus from 2008-11 and you have to believe he would've had a chance at catching Grezky's all-time goals record (the points record is completely untouchable.
The 90's pairing of Mario Lemieux and Jagr is up there for one of the best duos in NHL history. Gretzky and Messier probably take the crown, but they're definitely in the conversation with Orr-Esposito, Howe-Lindsay, Crosby-Malkin and Hull-Makita for next best duo.
Here's a quick power ranking of the different Jagr jerseys worth owning:
1. Penguins
2. Rangers
3. NHL All-Star jersey
4. Czech National team
5. One of his KHL or pro Czech jerseys
6. Capitals
7. Panthers
8. Flyers
9. Devils
10. Bruins
11. Stars
12. Flames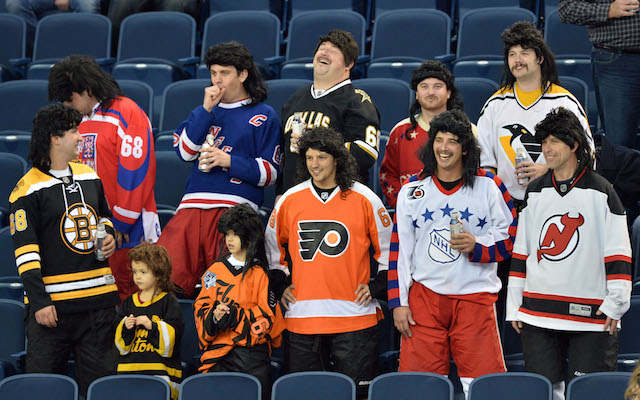 Jersey of the Week
Autographed Eric Dickerson Los Angeles Rams
An autographed Eric Dickerson jersey? Are you kidding me? It's one thing to hand in a jersey of a top 10 running back of all-time. It's another to hit me with a classically awesome LA Rams look. And then the autograph to boot? I know my autograph standings bump has been controversial in the past, but I'd hope that nobody could argue this result.
Jersey of the Week Standings
No movement in the standings but Shlok just hit the competition with an absolute haymaker this week.
Jersey News Round-Up
First they announce the discontinuation of the Miami vice jersey and then this gets leaked. Nike's gone too far on this one.
These hats and this idea is absolutely putrid. And I'm not the only one to think so:
Sometimes you see the impact that an angry mob of sports fans with too much time on their hands can have and wonder what could be accomplished if their passion was directed towards something like global warming.
Could you tell I'm thin on topics?
You know what? I'm kind of tempted to pop on one of these.
OK I'm very tempted to pop on a Manoah jersey. Between the Spring Training highlights and the Pitching Ninja Twitter clips, the guy seems like he could be worth the hype. Fingers crossed.