2018 NHL All-Snub Team
Yesterday the NHL announced its All Star rosters and, as a result of the smaller divisional rosters that come with the 3 on 3 tournament format, there was some high-caliber talent left out of this year's All Star tournament.
So why not round up the best of the rest and enter a fifth team to the tournament? A group of left-behinds who could strut into the tournament with their own set of ugly neon jerseys with John Scott and the face and coach of the team. Make a real spectacle of the thing considering the event is usually kind of boring anyways. Here are some of the players that I feel could've easily earned the distinction as 2018 All Stars.
Sean Couturier
After years of underwhelming production, the eighth overall pick from 2011 has broken out in a big way this season. His 23 goals and 42 points are already career highs for Couturier and he's achieved these personal bests in just 42 games. Giroux is the lone Flyers representative and considering he leads the team with 52 points its hard to argue. Its just a shame that Couturier probably won't see any All Star action for his stellar play and team-leading goal production.
Phil Kessel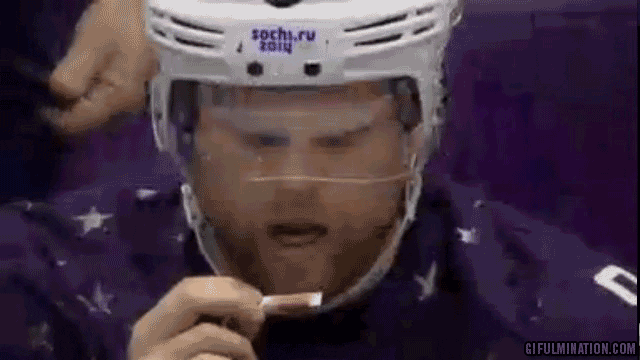 Phil the Thrill has been the straw that stirs the drink for the Penguins this year. Not Crosby, not Malkin, but Kessel leads the team with 18 goals and 47 points. If there was ever a year for Kessel to make the team over Crosby this is it. It doesn't seem to matter how far Steve Simmonds and Toronto media are in his rear view mirror. Phil just can't seem to shake the hot dog stink no matter how many Cups that he wins.
Jonathan Marchessault
Of Vegas' two All Star selections I feel like both of missed the mark. I feel like Marchesseault and even team goal-leader William Karlsson are more deserving of an All Star nod than James Neal and Marc-Andre Fleury. While both players easily have the most name recognition on Vegas, Neal is only fifth on the team in scoring and injuries have only limited Fleury to 12 games. Marchessault has been dynamic this year and has scored at an impressive pace of 40 points in 38 games. Without Marchessault's deft scoring touch it's unlikely that we'd see Vegas with the second-best record in the NHL.
Sean Monahan
The dynamic one-two punch of Gaudreau and Monahan has made this young Calgary Flames team a force to be reckoned with. While Gaudreau was pretty much a lock for the All Star festivities, Monahan lost out in a roster numbers crunch. His 20 goals in 42 games would have given him a strong case for an All Star spot if Rickard Rackell wasn't forced in as the Ducks lone representative.
Vladimir Tarasenko
The Blues have been right in the thick of things in the crowded Central Division thanks in no small part to their potent goal-scoring. Lost in the surprising scoring binge from Brayden Schenn is the continued excellence of Vladimir Trasenko. Both Schenn and Tarasenko lead the Blues with 44 points a piece in 46 games so you pretty much could've flipped a coin to see who would represent St. Louis.
Jakub Voracek
Voracek has been awesome this season and if he didn't play in the stacked Metro division you'd have to think that his 52 points in 41 games should've made him a lock for an All Star slot. Luckily for him, he may still get a shot at the midseason exhibition if/when Crosby backs out with a case of some undisclosed ailment.
John Carlson
Right now Carlson is second in scoring among NHL defensemen with 34 points. With the loss of Shattenkirk, Alzner and Schmidt this past offseason, there is even more responsibility on Carlson's shoulders and he has arguably become the Washington's most important player not named Braden Holtby. It makes no sense that even one of Letang, Hanifin or Jones made the team over him let alone all three.
Morgan Rielly
He still makes some very obvious gaffs that makes Leafs fan's blood boil. But Reilly has finally broken out offensively with 31 points in 45 games and has been the most steady presence on the blueline for a Leafs team that currently sits third in the Atlantic division. Unfortunately Mike Green has had an awesome year in Detroit and Rielly hasn't quite played well enough to displace Karlsson or Hedman (although there's an argument to be made that Rielly has been much better than Karlsson this year). Rielly has been better than defensemen in on other division's teams but that just isn't how the All Star game works. If Rielly continues this upward trajectory and Toronto keeps thriving Rielly is bound to be an All Star one of these years.
Ryan Suter
At age 32 Suter still logs huge minutes. This year coach Bruce Boudreau has Suter playing a whopping 26:54 minutes a game, which is the second highest among all NHL defensemen. The Minnesota Wild is still a strong, if not bland hockey team and Suter is a far more important player to their operation than Eric Staal who is their current All Star pick. Now I don't quite think he deserves to crack the team over Klingberg, Pietrangelo or Subban but he's right there with them in terms of his overall effectiveness.
Cory Schneider
It's a testament to how stupidly competitive the Metro Division is that there are several snubs from the division and I didn't even have room to find a spot for Malkin, Bobrovsky or surprise 25 goal-man Anders Lee.
Schneider has been the main reason that the Devils have stunned pundits and find themselves in a playoff spot in the absurdly deep Metro Division. Schneider owns a very strong .926 Even Strength Save % and faces a tonne of shots on a nightly basis. While his .918 SV% and 2.67 GAA isn't overwhelming, Schneider might be the most valuable player to his team's success.
Corey Crawford
Chicago might not make the playoffs this year but that is not reflective on how well Crawford has played this year. He sports a very impressive .929 SV % and Chicago has a pretty decent 16-9-2 record when he plays. Unfortunately Crawford has been banged up and is currently on the IR with the Blackhawks spinning their tires. If they have any premonitions of playoff hockey they need Crawford back and quick.