Battle of the All-Star Games
In light of the month long slog that seems to be a never-ending blog entry on "How to fix the *blank* All-Star Game/Pro Bowl", I've decided fix the All-Star Game/ Pro Bowl. My suggestion is to dissolve the NHL and NBA All-Star games and NFL Pro Bowl to create one big event that would pit the best of each league against eachother. Each team would have to play each other in a mini-tournament where no team would be allowed to play their own sport. We're talking Giannis Antetokounmpo on skates,  Von Miller running the triangle and Sidney Crosby and PK Subban connecting on the flea flicker. It would be pure chaos and I for one wouldn't miss a second. Here's what those matchups would look like:
NFL v NBA in hockey
I googled any combination of "NFL players", "football players", "NBA players", "basketball players", "Lebron" and "playing hockey and these were the only videos that I could pull up. If none of these football players or basketball players have any skating experience whatsover (which is a fair assumption), then their skating abilities will range somewhere between Bambi on ice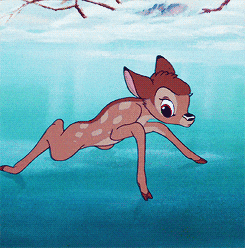 and Luis Mendoza from Mighty Ducks 2.
Either way it would truly be a spectacle to see Joel Embiid lace 'em up opposite of Marshawn Lynch. I would just hope that we don't immediately regret giving weapons in the form of hockey sticks and skate blades to Aqib Talib and Richie Incognito.
NBA v NHL in football
Here's your quarterback:
And here are your star receivers:
On the other side of the gridiron, those crazy hockey players from Saskatoon might forget that real football is played with four downs and no "rouges". The hockey players only have a shot if they keep the ball away from Lebron and co. with well-placed punts and running out the clock, with all of their trick  plays panning out.
NHL v NFL in basketball
Here's a taste of what you're getting from the NFL on the court:
And here's what the NHL brings to the table:
The NHL would be creamed to be sure. Their vanilla-bland personalities and presence of Brad Marchand could make them a bizzaro parallel to the mid-90's villainous Duke teams with one hundredth of the basketball acumen. I for one would love to see Phil the thrill throw down the patented "hot dog stand windmill slam" under the bright lights of a full basketball stadium.
As fun as this hypothetical sports battle would be, I wouldn't go anywhere near it if I were the NHL. We're talking a probable and embarrassing full sweep and possible back-to-back shutouts in both sports. In their defense, hockey (and skating skating in general) is such a niche athletic ability to most non-Canadian North Americans, the NHL players would dominate their non-hockey players in their own sport more than NBA or NFL players would.