Jersday Blog November 29, 2018
Jersey Round-Up
Adidas Newcastle Home Kit
Quite honestly hats off to me for the execution on this one. For the life of me I had no idea what soccer… correction football… team this was. I had to fire up Google to make head or tails of this nonsense. Notice the correct British use of the word "kit". Who is this cultured aficionado? Supposedly people wake up early to watch Premier League on weekends. Could't be me
In terms of jerseys it kind of looks like a stereotypical referee shirt. Here's a little tip to those not in tune with the beautiful game: Premier league referees wear solid coloured shirts. And that's me talking soccer.
Bruce Smith Buffalo Bills Champion Jersey
Now back to some real football. Bruce Smith is a real one. Hall of Fame defensive end, one of the stars on Buffalo's back-to-back-to-back-to-back Super Bowl runner-up teams from the 90's and the NFL's all-time leader in quarter back sacks with 200.
Now from the looks of it, I'm going to say this is probably a thrift shop pick-up. In my mind the best kind of Bills jersey is a cheap Bills jersey. If you're going to a member of the mafia you can't be afraid of your authentic Lesean McCoy jersey getting barbeque sauce and beer poured on it. With a jersey like this you can jump through flaming tables to your hearts desire and look fresh while doing so.
Raptors Staring Big Men 2012-2015 Jonas Valanciunas and Amir Johnson
Don't cry because it's over, smile because it happened. It's a shame that the NBA is going small and these two are literal dinosaurs. Back in my day you had didn't worry about your power forward's "switchability" you were looking for rebounds, shot blocking and some sweet post work.
This era of Raptors jersey might be the least aesthetically pleasing but they're the ones that I grew up with so I'll always go to bat for them. At the time they came out I remember people were pumped because at the time the purple look wasn't that popular. But like a fine wine the purple Raptors throwback is what the people want.
Vladamir Guerrero Jr. Toronto Blue Jays Home Jersey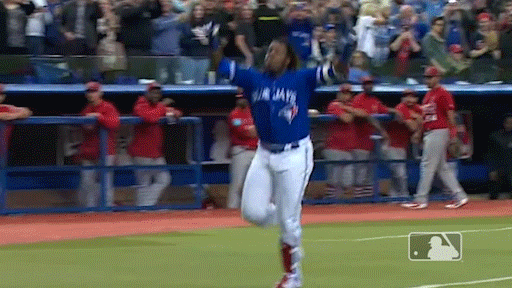 Getting a prospect's jersey is always a risky proposition… But this is a slam dunk. The road to the Blue Jays having a legit blue chip prospect pan out is littered with Travis Sniders and Kyle Drabeks.
Peter Stastny Quebec Nordique Jersey
I love the old Nordique jerseys. The logo has a classic clean look, the fleure de lis hasn't really been utilized in too many hockey jerseys since, and there have been some straight up studs to suit up for Quebec. Stastny is low key one of the all-time greats. Get a load of this:
If Stastny had a few more elite years he would no doubt be in the NHL pantheon but at the very least (based on no fact-checking on my part) he's a top 5 Euro of all-time.
Mississauga Ice Dogs Jersey
Shout out to the team that Cherry built. Before they moved to Niagara and Cherry sold his shares in the team, the Ice Dogs were truly a tire fire. From its first season in 1997 to when they relocated to Niagara in 2007, the team had a record of 184-354-47. They actually has a bunch of notable NHL alumni:
Daniel Carcillo
Greg Jacina
Brian McGrattan
Sean McMorrow
Patrick O'Sullivan
Kyle Quincey
Igor Radulov
Rob Schremp
Jason Spezza
Chad Wiseman
Cody Bass
Luca Caputi
Dustin Jeffrey
Alex Pietrangelo
Oskar Osala
This jersey is so cool because I'd imagine that there are just so few around anymore. I love jerseys that sit in the middle of the obscure and kind of ugly section of the Venn diagram. Give ugly jerseys a couple of years and they become cool. That's just how it is.
Jersey Dump
I'm here for this.
Call me when I can get a Johnny Manziel Arizona Hot Shot Jersey.
I'm all for the Bills upgrading these to their primary jerseys.
It'd be cool to scoop up a Selanne throwback. Maybe a Shane Doan or Keith Tkachuk.
Bring back Colour Rush Thursdays. The worst Colour Rush jersey is still beautiful in my eyes.
Where's Josh Allen?
This is too well put together. The old viral taped up Browns QB jersy was the epitome of Cleveland football.
As a hater of Kyrie and the Patriots this jersey nauseates me to my core.