Jersday Blog March 7, 2019
The Round-Up
The Brendan Ballantyne
While you won't find this on Fanatics best sellers list, I think it's safe to say that Ballantyne has the most jersey sales in the Brock intramural basketball circuit.
Anyone willing to put this puppy on their credit card is clearly a fan of funky jump-shooting mechanics, cheap L3 personal pitchers and fantasy sports spreadsheets. Young Ballantyne was a hustler through and through. This jersey will be the next big summertime music festival look. I wouldn't be shocked to see Drake or Snoop Dogg rocking this throwback on stage at some point.
Alex Burrows 2014 Heritage Classic Vancouver Canucks Jersey
These are some of my favourite NHL jerseys ever… period. It was the Heritage Classic versus the Senators where Torts ended the Luongo's Canucks tenure by benching him for Eddie Lack. What a time to be a 'Nucks fan. These days they're on the up and up with some young studs and are a few pieces and a goalie away from being a playoff challenger in the crappy Pacific.
If this wasn't a Burrows jersey this would've been the jersey of the week. The guy was an absolute weasel. Burrows wasn't nearly good enough to be Brad Marchand and wasn't quite dirty enough to be Matt Cooke. The result was something like this:
Kevin Garnett Minnesota Timberwolves Jersey
This jersey just called your mom fat and said you rebound like a Nancy. In my mind KG is the best combination of talent and trash talker in all of sports. The guy was a career 17.8 and 10 power forward, 15 time all-star, and an MVP and championship ring to boot. You can talk that talk if you can walk that walk. The guy was just an absolute psycho. Here's a story from a 2016 Vice article about how this guy can't even watch TV without going unhinged:
Tyronn Lue: A lot of people do all their howling on the court and they're faking just for attention, but what he does is genuine. So one day we were at his house and we were watching Puff Daddy's show Making the Band, and in one of the scenes, some new guys came in and were trying to sing and were trying to compete against the guys who had been there. And KG just got so hyped, "Motherf*cker, you've got to stand up for yours! You've got to fight! Motherf*cker, you've got to come together!" He's going crazy, he's sweaty. And he just head butts the wall and put a hole in the wall of his house.
This guy's the best.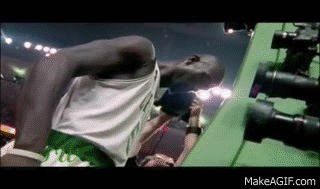 Tetsuya Utsumi Tokyo Gas Jersey
I can't say I know a lot of Japanese-specific baseball. From what I can tell from his Wikipedia page, Utsumi was a junkballing ace in the Nippon Professional Baseball League. He won the 2012 Japan Series MVP and was a member of the Japanese team that captured the gold in the 2009 World Baseball Classic. I don't have much to go on but this is a cool jersey nonetheless.
Jersey of the Week
Marcus Stroman Duke Jersey
This is the second week in a row I'm going with a college jersey, but this pick is honestly blows last week's Brian Lewerke jersey out of the water. Stro Show is one of the biggest personalities in the MLB and has shown that he has the ability to absolutely deal. He's kind of tiny for a pitcher but is a total bull dog on the mound and can spin the ball as if it's a wiffle ball. Stroman is definitely considered one of the best pitchers that Duke has had. He's the first Duke pitcher to ever be drafted in the first round of the MLB draft and holds the school record for career strikeouts with 290 over 222 innings pitched.
Jersey of the Week Scoreboard:
1. @Acooksy19: 4
T2. @beamerr9: 2
T2. @wilsondrew17: 2
T3. @jefftrahan13: 1
T3. @phillydip4: 1
Adam gets back on the board and gets some separation from the pack.
The Weekly Jersey Jump
I kind of like the look of the bottom left logo. It looks like a cereal or orange juice logo.
I can't believe Clay Buchholz didn't crack this list
Yeah. Harper looks good in a Phillies jersey. I might have to pull the trigger on one.
Mr. Julianne Hough the the sweet throwback. Little piece of trivia: Brooks Laich assisted on both Michael Nylander's last career goal and William Nylander's first career goal.
Inspired by Big Country and Shareef Abdur-Rahim.