Ranking the Best Young NHLers to Build a Team Around
The other night I was watching the Leafs vs. Jets tilt and was just wowed by the speed and entertainment. A match-up once dubbed as potentially this generation's Crosby vs. Ovechkin, Matthews vs. Laine has been more like Crosby vs. Bobby Ryan. But nonetheless between, Auston, Marner, Nylander, Laine, Scheifele, Ehlers and Connor, there was no shortage of prime-time, next generation talent. While the Leafs lost the match-up, Matthews put on an absolute show.
Between the game against the Jets and the game against the Oilers this week, my buddy Blake texted me asking "if you could start a franchise and could have any one player to build around where would Auston Matthews be on your list." Well last night I dusted off the keys and hammered out a list of the NHL's best and brightest young stars.
To help make sense of the best building blocks in this topsy turvy NHL landscape, here's the a list of my top 10 current NHL players to build a team around. I've limited the list to under age 27 (the NHL's RFA age). The age limit is to put a focus on a player's upside and not hypotheticals like "would you take 10 years of Matthew Tkachuk's prime or the end of Ovechkin's prime?" That's a conversation for another day.
1. Connor McDavid
Imagine building your organization with the best scorer since Gretzky? Imagine if he also had the engine of a Ferrari? And he's also just 22 years old? Just so long as you don't pair him with**checks notes** some combination . of Milan Lucic, Patrick Maroon, Kailer Yamamoto, plus one of the most shallow supporting casts in the league, a leaky blueline, and a revolving door of goaltending mediocrity, then you should be well on your way to contention.
The guy is an absolute cheat code.
2. Nathan MacKinnon
Now this list of mine is strictly some gut-feeling/analytical mix of a players production right now, crossed with upside, skillset, age and position-based value. If I was to factor in cap hit into the conversation, MacKinnon would leapfrog McJesus and place #1 with a bullet. I've poured over the numbers and found that $6.3 mil AAV is significantly less than than $12.5 mil. Dubious as you may be, I've double checked the math.
But in my hypothetical world I'm just talking about skill. Shred the contracts and put everyone in a fantasy draft. Who are you starting a franchise with? MacKinnon is a world-class skater, has great hands in-tight and is simply too strong to knock off the puck. He was  Hart trophy finalist in 2017-18 and had at least 95 points in each of his last two seasons. And he's only 24 years old. Cheque please!
3. Auston Matthews
Here's where I'll get roasted for "being a homer" or "not watching enough non-Leafs games". Here are five blind resumes of up and coming star players. Who would you take?
Personally Player A looks rather appealing. Definitely the best scorer per 60 minutes and leads the pack in even strength goals despite being the youngest and playing by far the fewest games. AND he's a center? Now we're cooking with gas. Now let's take a look behind the curtain to get a look at who this mystery sniper is.*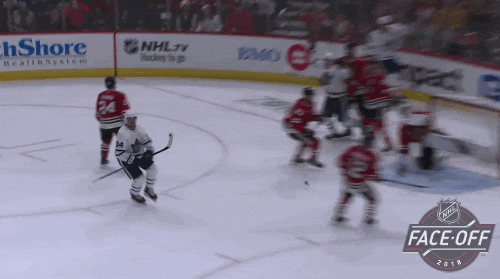 *the other players listed are:
Player B: Leon Draisaitl
Player C: David Pastrnak
Player D: Aleksander Barkov
Player E: Jack Eichel
In a league where a premium is paid for goal-scoring and elite centers, Matthews is a premier player scoring at a historic clip. Facts are facts.
4. David Pastrnak
With Ovie and Patty Kane both closer to the end of their careers than the beginning, Pastrnak and Kucherov look like the heirs apparent to the pinnacle of the sniping wing archetype. As with MacKinnon above, if I took cap hit into account, Pastrnak and his criminally underpaid $6.66 AAV would probably slide him up ahead of Matthews, maybe even McDavid, on this list. I for one do not cheer for underpaying players at the benefit of the fat cats upstairs, but maybe that's just me. The math geeks, nerds and Bruins fans mocked the contracts Toronto has handed out in the last calendar year. I for one celebrate it as a victory for the common Joe firing pucks at their garage door.
5. Nikita Kucherov
Only McDavid and Kucherov and McDavid have 100+ points in each of their last two seasons. Between the two right wingers, I gave Pastrnak the slight nudge in the rankings since he's three years younger and is currently having a better season than Kuch.
6. through 8. is some combination of Aleksander Barkov, Leon Draisaitl and Jack Eichel
Honestly my rankings on these three elite centers varies from day to day. It really depends on what you're jonesing for. Looking for a future Bergeron-esque perennial Selke candidate? Barkov's your man. Looking for a dynamic offensive weapon who can single-handedly carry a team's scoring? Eichel's your man. Looking for some kind of hyrbid of the two? Can I interest you in the new model of Draisaitl?
9. Andrei Vasilevskiy
While he's having a bit of a down year, you'll be hard-pressed to find a more dynamic goalie than the 25 year-old reigning Vezina trophy winner. While Binnington won a Cup with St. Louis last year, I give Vasilevskiy the edge since Binnington has yet to show that he can dominate over the course of a full regular season schedule. Vasilevskiy has been the backbone of a Tampa Bay squad that has been best regular season team over the past three seasons.
10. Seth Jones
I wanted to include one defenseman and Seth Jones seems to check off all of the boxes. At age 25 Jones still has his best years ahead of him, yet already has already has two top-10 finishes in Norris Trophy voting.
I also considered Ekblad for his early career goal-scoring prowess, but he hasn't even come close to Jones' heights yet. I considered Chabot since he leads all NHL defensemen in ice-time despite only being 22 years-old. My qualms with Chabot–while he's still amazing–is that he's being force-fed minutes by a lackluster Senators team and is still a long way from establishing the two-way dominance that Jones has. The other d-man that I considered for this list is Cale Makar who has been nearly a point-per-game player as a rookie, which is absurd. The only caveat I can throw at him is that Makar has 64.8% of zone starts in the offensive zone. For context Erik Karlsson–who has long been criticized as a purely offensive defenseman–is a career 55.6% oZS% and only had one season where he surpassed 60%. While Makar has been impressive, he's largely been used as a specialist and has a long way to becoming an Erik Karlsson rather than a Mike Green or Tyson Barrie.
Among defensemen age 27 or under, I think Jones has the best combination of two-way play, dynamic skill and ceiling to grow. Any team would be ecstatic to have him as a building block.
Honourable Mentions: Elias Pettersson, Mark Scheifele, Filip Forsberg, Sebastian Aho, Mitch Marner, Brayden Point, Johnny Gaudreau, Jonathan Huberdeau, Jake Guentzel, Kyle Connor, Miko Rantanen, Nikolai Ehlers, Patrick Laine, Williams Nylander, Dylan Larkin, Aaron Ekblad, Cale Makar, Zach Werenski, Thomas Chabot, Morgan Rielly, Dougie Hamilton, Rasmus Dahlin, Ivan Proverov, Jordan Binnington, John GIbson, Ilya Samsonov, Carter Hart, Matt Murray, Joonas Korpisalo