The Jersday Blog January 3, 2019
The Round-Up
Boston Bruins Winter Classic Jersey
I can't get over how nice these jerseys are. I'm a sucker for outdoor games but missed this year's for driving home from my cottage for four hours. If anyone on Redstone Lake in Haliburton took a peak at the lake on New Years Eve they would've been treated to a real outdoor game. Matt Duchene must've heard the Waind brothers were tearing up some outdoor puck on the lake and hurried back to Ottawa.
Tremaine Edmunds Buffalo Bills Jersey
The 16th overall pick in 2018, Edmunds was one of the lone bright spots for the Bills in 2018. The rookie linebacker finished off the season strong and ended up locking down December's Defensive Rookie of the Month.
There aren't a tonne of guys worth getting a jersey of in Bills Mafia these days. LeSean McCoy is now a dangerous combination of washed-up and controversial and there's really no other impactful playmakers. This leaves a handful of young guys like Shaq Lawson, Edmunds and Josh Allen who I'd be willing to shell out some jersey money on.
Khalil Mack Chicago Bears Jersey
This jersey gets the blood pumping. The Bears are an absolute wagon this year and Mack's the one pulling it. While you can't credit Mack for all of Chicago's turnaround, he certainly deserves his fair share of praise. With Trubisky in year two of a four year contract, the Bears have a window to surround a QB on a rookie contract with an elite supporting cast. Call it the anti-Packers model or the bizarro Jaguars reality where Bortles (bless his soul) doesn't completely wet the bed. Regardless of where the Bears end up, Chicago fans should be pumped that they get a front row seat to the game's best pass-rusher. Smell ya Jon Gruden.
Deanna Nolan Tulsa Shock Jersey
Credit to my brother for the off-the-board jersey selection. As he recalls it, he saw this WNBA jersey at a thrift shop for $10 and "had to pop on it." A quick Wikipedia look tells me that apparently Deanna Nolan was actually pretty good.
Well I'll be.
Jersey of the Week
Dirk Nowitzki Dallas Mavericks Adidas Hard Court Classic Jersey
Pour one out for the lanky German. As Dirk's career winds down I can't help but get choked up. Dirk and Vince are the only two players left who have been in the league since I've started watching hoops. Every fadeaway I hit in beer pong or in the driveway will be in the name of Dirk.
This era of Mavs jerseys are easily their best. Way better than the blue and grey on navy blue that they've been rocking for the past 15ish years. Check out this picture: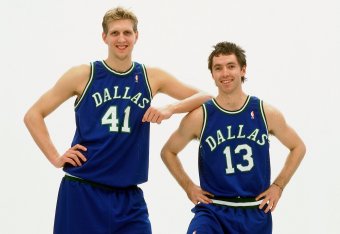 Yup that's the good stuff.
Jersey Dump
I don't know how accurate this list could be. I'm not seeing Tyrod Taylor, Blake Bortles or Kyle Williams.
What a weird turn the Antonio Brown saga made. No Le'Veon Bell, soon to be no Brown and Big Ben is a couple years away from retirement. The Steelers are (finally) almost done.
Huge fan of this logo. Almost bought one of these bad boys on a hat a couple of years ago only to back out to save money… Only to buy 3 hats a month later.
These Winter Classics jerseys were some of the best of any of the games. Right up there with 2011's Pittsburgh blues and Washington's star-spangled throwbacks.
I once wore a hoodie under my baseball jersey while playing in a game in -5 degree celsius weather. That's Canada for you. I was a combination of visionary and complete duster.
I respect the move.
The Big Aristotle puts asses in the seats.
TBH these two don't look that alike. Maybe if enough people say that I look like Boban Marjanovic he'll give me a game-worn jersey.