2017-18 Bench Life NHL Previews: 25. Buffalo Sabres
Part 7 of 31 in our NHL previews where Ballantyne, Burgess and I rank each NHL team 1 through 31 and give you an outlook on their season. Each of our previews will be given to you in order of where we collectively power ranked that team. It's not the most exciting system, but neither is Jacques Lemaire's neutral zone trap.

Check out our other previews:
#31. Colorado Avalanche 
#30. Vegas Golden Knights
#29. Vancouver Canucks
#28. Detroit Red Wings
#27. New Jersey Devils
#26. Arizona Coyotes
2016-17 Recap
Record: 33-37-12 (78 points) 8th in the Atlantic division (26th overall) 
GPG: 2.43 (24th)
GAPG: 2.82 (20th)
PP%: 24.5% (1st)
PK%: 77.6% (25th)
Corsi For %: 47.2 (28th)
After jumping from 54 points in 2014-15 to 81 points in 2015-16, there was a lot of buzz surrounding this young Sabres team last season. A core of Eichel, O'Reilly, Ristolainen, Reinhart, Okposo,  Kane and Lehner seemed like it had the jam to breakout in the Eastern conference and challenge for a playoff spot. While it wasn't really out of left field for the Sabres to underwhelm their way to a 78 point season, the utter and complete dysfunction that got them there was a surprise.
Maybe there's a different tone if Jack Eichel doesn't miss the first quarter of the season due to a severe high ankle sprain in training camp. It's deflating anytime you lose a player of his stature for that many games, but for it to happen right out of the gate is pretty deflating. That was just a laundry list of problems that plagued the Sabres' season. Sam Reinhart didn't make the leap that everyone expected. Evander Kane's 28 goals came with too many on-ice and off-ice distractions. The blueline was a mess. Veteran forwards Matt Moulson and Tyler Ennis didn't do a whole heck of a lot. Big free agent signing Kyle Okposo's season was cut way too short after being hospitalized with scary health complications. The icing on the cake was when Eichel did return he publicly butted heads with Dan Bylsma, eventually leading to the coach's firing.
2017-18 Outlook
List of Key Additions: Nathan Beaulieu, Chad Johnson, Jason Pominville, Benoit Pouliot, Marco Scandella
List of Key Departures: Tyler Ennis, Marcus Foligno, Brian Gionta (UFA), Dmitry Kulikov, Anders Nilsson
The good news is 2017-18 can't be any messier than last year was for the Sabres. Rookie coach Phil Housley looks to bring more accountability and respect to the dressing room. You would think that his Hall of Fame playing career would warrant the eyes and ears of the room. Hopefully he and his staff can patch the leaky system that resulted in stagnant offense and a turnstile defense.
Their front office also got a shake-up with former GM Tim Murray getting the axe and bringing in Penguins protege Jason Botterill as his replacement. While there were no drastic changes to the on-ice product, there were a couple of tweaks were made to the roster that could really help the Sabres along. Swapping forward depth Ennis and Foligno to acquire  steady blueliner Marco Scandella and reuniting with veteran winger Jason Pominville makes a tonne of sense. If there are any doubts on Lehner, bringing in Chad Johnson from Calgary to back him up is great insurance. By the end of the season Johnson may even be able to wrestle the starting job from the moody Swede.
The Sabres have the makings of a competitive team and some of the minor tweaks around the edges may just be enough to right the ship.
X-Factors
Team MVP: Jack Eichel
When he finally recovered from his ankle injury, Eichel broke out in a big way. He racked up 57 points in 61 games which far outpaced his 56 point in 81 games rookie campaign. While Buffalo was disappointed that they lost the McDavid sweepstakes of 2015, to call Eichel a consolation prize is almost insulting. Eichel is a great skater with strong offensive instincts and nasty hands. He's a couple years away from usurping Patrick Kane as America's top sniper and it's only a matter of time before he is recognized as one of the game's elite. While Ryan O'Reilly is the team's best two-way player, Eichel blows him out of the water in terms of offense. The Sabres have their superstar now they have to build a team around him.
Team's Strength: The Powerplay
The fact that Buffalo had the best powerplay percentage in the league despite finishing 24th in goals per game is kind of amazing. With the surplus of playmaking talent Buffalo possesses it shouldn't shock anyone that they are dynamite on powerplay. When you give horses like O'Reilly, Eichel, Kane, Okposo and Reinhart prime real estate in the offensive zone with Ristolainen quarterbacking and finding the passing lanes, the puck will find the back of the net. There's no question that this is a very talented group.
The reason this doesn't translate to five on five play is because the Sabres are a poor possession team who struggle to enter the zone. A system overhaul and adding Scandella and Beaulieu as outlet passers from the back end could start to solve some of their scoring woes.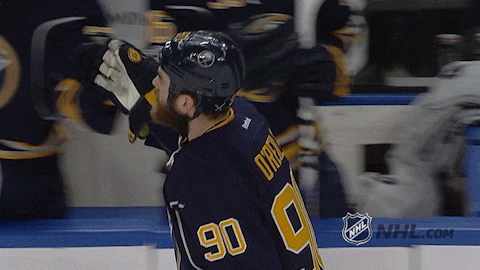 Team's Weakness: Leadership
38 year-old captain Brian Gionta is a UFA and is likely to hang up the skates for good. Josh Georges still wears an (A) but his on-ice role has been significantly diminished. This is a very young team and that will have a tough time with adversity without a strong voice in the room. Buffalo management hope that O'Reilly and Eichel can be leaders but, especially in Eichel's case, they look to be a long way from being able to rally the troops. As an outsider I admittedly have no idea what the locker room dynamic was like last season. But based on what was leaked to the media, it was a certifiable gongshow. Owner Terry Pegula used many buzzwords like "accountability" and "leadership" during the press conference where he discussed Bylsma and Murray's firings. It's now up to Housley and co. to back these words up.
Rookies/Farm:
Despite having the fourth youngest roster last season (average age of 26.026 per nhlnumbers.com), the Sabres still have a nice collection of prospects in their system. Alex Nylander is unlikely to break camp with the team, but possesses a dynamic scoring skillset similar to his brother William. Last year was Alex's first as a pro and saw him put up an underwhelming 28 points in 65 games. He's still just 19 years old so this professional debut should be seen as a speed bump rather than a red flag.
One prospect who is closest to cracking the big club out of camp is defenseman Brendan Guhle. Selected 51st overall in 2015, Guhle is a pretty strong playmaking defenseman who has the ability to add to Buffalo's already lethal powerplay. The 6'1″ left shooting defenseman had 33 points in 47 WHL game split between the Prince Albert Raiders and the Prince George Cougars last season. He impressed Sabres management enough to get a 6 game run in the AHL and 3 game audition with Buffalo as last season wound down.
Key Player: Rasmus Ristolainen
There is a huge discretion between the analytics community and old school eye-test guys as to just how effective Ristolainen is. The 22 year-old Fin scored a career high 45 points with 39 assists while averaging an NHL fifth-best 26:28 minutes per game last season. He's big, mobile and lethal on the powerplay (last season he was an NHL fourth-best in powerplay assists with 24). What more could you want?
The counter point that has the analytics community up in arms is that Buffalo is routinely outshot everytime  Ristolainen's on the ice. Terrible possession numbers and below average scoring rates call into question if Ristolainen is even a good defenseman.
I can tell you that anytime my team plays the Sabres, Ristolainen is a legitimate problem to play against. While the advanced stats don't back him up, to see him play it is evident that he is a great talent. His poor possession numbers could be the result of inexperience, being fed too many minutes too soon into his career and just overall bad system play by the Sabres. It'll be interesting to see if Phil Housley and his new staff will deploy Ristolainen any differently than Bylsma did and how it will affect his play.
Our Rankings
T. Waind: 23rd
C. Burgess: 25th
B. Ballantyne: 24th
---
This is going to be a key year for the Sabres development. After a disappointing season on and off of the ice, they need to get things back on track. They have the bones of a good hockey team but need to round out the roster and tighten up their systems before they can make any noise. I'm still a bit more pessimistic on them than some of the other Atlantic division teams because of their weak blueline and goaltending. Despite a solid .921 save percentage in his first two seasons in Buffalo, Robin Lehner is way too volatile and hot-headed to inspire confidence in his play. He has the talent, but if he can't earn the trust of team and limit the late-game meltdowns, then it will Buffalo won't be relevant until it can figure out its crease.