2017-18 Bench Life NHL Previews: 21. Los Angeles Kings
Part 11 of 31 in our NHL previews where Ballantyne, Waind and I rank each NHL team 1 through 31 and give you an outlook on their season. Starting from the worst, we'll be giving you the reasons why we ranked each team where we did.

Check out the other parts to this series:

#31. Colorado Avalanche , #30. Vegas Golden Knights, #29. Vancouver Canucks, #28. Detroit Red Wings, #27. New Jersey Devils , #26. Arizona Coyotes, #25. Buffalo Sabres, #24. Winnipeg Jets, #23. New York Islanders, #22. Florida Panthers
2016-17 Recap
Record: 39-35-8 (86 points) 5th in Pacific Division (22nd overall)
GPG: 2.43 (25th)
GAPG: 2.45 (6th)
PP%: 19.1% (15th)
PK%: 84.5% (5th)
Corsi For %: 54.8 (1st)
The 2016-17 season was a disappointment for the Kings as they ended up missing the playoffs, but injury was a big reason for that. When Jonathan Quick was injured in the first game of the season, many fans were left wondering how the rest of the season would go. This is the same question any fan would have if their starting goalie was hurt, but when your goalie is one of the best in the world and regularly makes saves like this, it's a little bit different.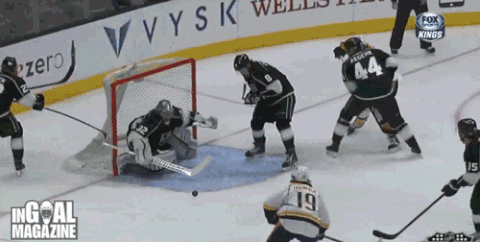 Ultimately, Quick was forced to miss 59 games due to the injury. In his 17 appearances last season, he was right on par with his career stats posting a 2.26 GAA and .917 SV% to go along with a 8-5-2 record.
The Kings also appeared to be a stride behind their opponents this year, part of this due to their aging roster. Los Angeles had one of the oldest rosters in the league last season, with an average age of 28.16. Since they last won the Stanley Cup in 2014, the style of play in the NHL has changed a lot. Teams are moving away from having a roster built on size, and moving towards a roster based on skill and speed. The Kings are still built the same as their 2014 team, and are stuck in the transition between this team and one built for speed. But with some Dustin Brown and Marian Gaborik under contract for the next 4 seasons at least, the Kings find themselves in a tricky salary cap situation.
2017-18 Outlook
List of Key Additions: Darcy Kuemper, Mike Cammalleri
List of Key Departures: Jarome Iginla, Teddy Purcell, Matt Greene, Rob Scuderi, Ben Bishop
The Kings offseason was fairly uneventful, not making any big splashes through trade or free agency. They sent pending UFA Ben Bishop to the Stars in return for a 4th round pick (used to select Markus Phillips) in the 2017 Draft. They let Rob Scuderi, Jarome Iginla and Teddy Purcell walk in free agency, and bought out Matt Greene who then retired.
To replace some of these players, they signed Darcy Kuemper to compete for the backup goalie position, while also bringing in Mike Cammalleri on a cap-friendly one year, $1 million contract. In addition to these signings, they also have 3 players at training camp on a pro-tryout basis: Brooks Laich, Chris Lee, and Andrei Loktionov.
The Kings will look to some of their big name players to step up or bounce back from last seasons struggles. After being named captain, Anze Kopitar scored only 12 goals last season. For the Kings to have a chance at competing for a playoff spot in a competitive Pacific Division, they'll need Kopitar to find his game again. He's not the only player who underperformed last season though, Marian Gaborik only had 10 goals last season while missing 26 games due to injury. Dustin Brown scored 36 points last year, which has actually been his highest total since before the lockout shortened 2012-13 season. However, with a $5.875 million cap hit, Brown hasn't been playing up to contract.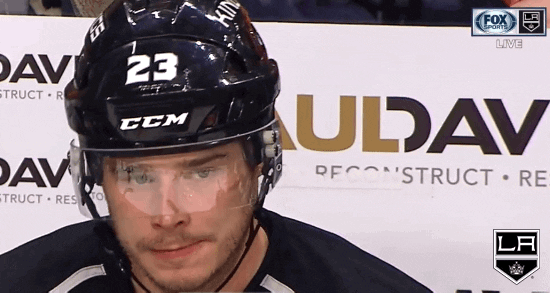 The Kings will likely be competing for a Wild Card spot in the Western Conference at the end of the season, as Edmonton, Anaheim, Calgary and San Jose are all better teams. However, the Kings still have the talent to compete, and a lot of core players from their 2012 and 2014 Stanley Cup teams are still there. While it's hard to be optimistic, the Kings could be a surprise team to watch this season.
X-Factors
Team MVP: Drew Doughty
The Kings 1st round draft pick in 2008 has become one of the best defencemen in the NHL since breaking into the league, evident by the Norris Trophy he won just two seasons ago. Doughty is a leader on the Kings, and arguably the most important player on the team. He anchors a blueline that lacks depth, while also providing a boost on the power play with 19 power play points last season.
Since his rookie season in 2008-09, Doughty ranks 9th among scoring by defensemen behind Erik Karlsson, Brent Burns, and Kris Letang to name a few. He averages 26:11 time on ice in that same time frame, behind only Ryan Suter among active players. Doughty has been workhorse for the Kings, and a lot of their success this season will be based on how well he performs. He'll be expected to carry the load for the defense this year, as the Kings lack depth on the blueline again heading into this season.
Team's Strength: Jonathan Quick
While the Kings defense group isn't the strongest, they're lucky to be bailed out by one of the best goalies in the NHL who can almost routinely make saves like this:
While Quick missed most of last season with an injury, and Peter Budaj played some of the best hockey of his career while starting for the Kings, being without your elite goalie all season eventually catches up to a team. The team is more confident that the goalie can bail you out if he needs to, defensemen have a bit more freedom to join the rush. Quick has a career 2.26 GAA and .916 SV% which is right on par with his numbers from his 17 appearances last season.
Team's Weakness: Bad Contracts
While the Kings are heading into the season with just under $8 million in cap space, they're stuck hanging on to some bad contracts. Dustin Brown is currently the third highest paid player on the team, with a cap hit of $5.875 million for the next five seasons. That salary puts him behind only Anze Kopitar at $10 million per season, and Drew Doughty at $7 million. Marian Gaborik is locked in through 2020-21 at $4.875 million per season, but at 35 years old it's clear that he's entering the twilight of his career. That means that over $10 million in salary combined for just 57 points for the Kings last season. These contracts are so bad that it'll be nearly impossible for the Kings to trade them away, and a buyout will over do more damage to their cap space. LA just has to hope that one or both of these players can find their stride and live up to their contract.
Rookies/Farm: 
The Kings had the 11th overall selection in the 2017 Draft, and used that to select centre Gabriel Vilardi. Vilardi, who played in the OHL with the Windsor Spitfires, recorded 61 points last year (29 G, 32 A) in 49 games. The centre is a two way player, who can use his size to his advantage both in the defensive end, as well as below the hashmarks while on the attack. The Kings also drafted 6 other players to their prospect pool that already included Brandon Wheat Kings and Canadian World Junior defenseman Kale Clague. While many of these Los Angeles prospects aren't ready to make the jump to the NHL just yet, Kings fans can rest east knowing that the future stars of this team have a bright future.
Key Player: Anze Kopitar
Entering his second season as captain, the expectation is that Kopitar will find his scoring touch again and improve on his 12 goal, 40 assist season from last year. Just two seasons ago he put up 74 points, a number that's more expected from a player making $10 million per season. Kopitar needs to lead by example this season. After a slow start last year, getting on the board early in the 2017-18 campaign will be important in order to get not only his season, but the Kings' season rolling in the right direction early.
Our Rankings
C. Burgess: 19th
T. Waind: 21st
B. Ballantyne: 22nd
---
The Kings find themselves in a tough situation this season. They're stuck between being a big team that wins games by outmuscling opponents and being a team full of speed and skill. We've seen in the past that this group of players have been able to win, as evident by their two Stanley Cups in 2012 and 2014. The challenge they face is now adapting to the changes in the game, such as the emphasis on speed over physicality. If the guys they pay to be their top players perform like top players, and Quick stays healthy for full year, the Kings should find themselves in a playoff spot come April.
But that's a big if. It's hard to see Dustin Brown or Marian Gaborik finding their scoring touch again. They don't have any NHL ready prospects who could help the team this season, and if Quick misses any period of time they don't have a capable backup. The Kings have the potential to be good, but they also have the potential to be very bad. Despite the fact that they look to be trending downwards, don't be surprised if the Kings find a way to make a playoff run again this season.