2017-18 Bench Life NHL Previews: 19. Philadelphia Flyers
Part 13 of 31 in our NHL previews where Ballantyne, Burgess and I rank each NHL team 1 through 31 and give you an outlook on their season. Each of our previews will be given to you in order of where we collectively power ranked that team.

Check out our other previews:

#31. Colorado Avalanche , #30. Vegas Golden Knights, #29. Vancouver Canucks, #28. Detroit Red Wings, #27. New Jersey Devils , #26. Arizona Coyotes, #25. Buffalo Sabres, #24. Winnipeg Jets, #23. New York Islanders, #22. Florida Panthers, #21. LA Kings, #20. Carolina Hurricanes
2016-17 Recap
Record: 39-33-10 (88 Points) 6th in the Metropolitan Division (19th Overall)
GPG: 2.59 (21st)
GAPG: 2.82 (19th)
PP%: 19.5% (14th)
PK%: 79.8% (21st)
Corsi For %: 52.0% (4th)
In the last five seasons the Flyers missed the playoffs three times and were quick first round outs the two years they did make it. Since their fluky Cup run in 2010, the Flyers have been in playoff purgatory with unsettling mediocre results. It's especially disappointing given that you don't have to squint too hard to see a talented roster. On paper, a team consisting of a forward core of Giroux, Voracek, Brayden Schenn, Simmonds, Couturier could be the backbone of a contending team. But over the past half decade, because of a blueline that has been in flux since Chris Pronger retired (?) and carousel of mediocre goalies doing their best to slow down the goals, successful seasons have been few and far between.
Last season there were some positive signs in the disappointing playoff-less campaign. Despite a stagnate offense and uninspiring goaltending, the Flyers were actually a very strong possession team. They had the fifth-most Shots For per game with 31.5 and the seventh-best Shots Against per game with 28.5. They also were sixth in the NHL in USAT% (Unblocked Shot Attempts Percentage: team shots on goal + team missed shots (excluding empty net). Also called Fenwick for) with 51.33% while having very favourable zone starts with 1233 offensive zone faceoffs and 1098 defensive zone faceoffs.
So, as weird as this sounds, the Flyers are a near elite team in terms of applying pressure on the other team, swarming the offensive zone and getting pucks toward the net. All they need to do now is figure out how to actually put the puck in the net… well and I guess keeping it out of the net… what a mess.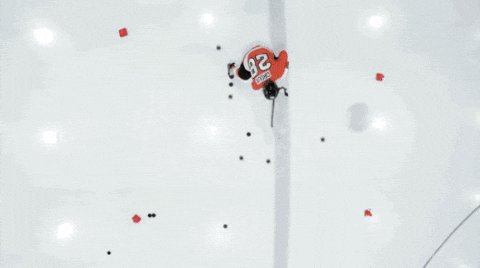 2017-18 Outlook
List of Key Additions: Brian Elliott, Jori Lehtera, Nolan Patrick,
List of Key Departures: Pierre-Edouard Bellemare, Nick Cousins, Michael Del Zotto, Steve Mason, Brayden Schenn
The biggest transaction of the offseason involved the Flyers winning a lottery. No they didn't land the first overall pick in the 2017 draft, but they did jump 11 spots in the draft to take Nolan Patrick with the second pick. The big center has drawn comparisons to Eric Staal because of his powerful skating and soft hands. He's one of the most NHL-ready players from the draft and looks to center a second line that will hopefully score some goals and take some scoring pressure off of Giroux and Voracek.
The acquisition of Patrick made it possible to trade Schenn to the Blues for Lehtera and a first round pick. While Lehtera is a downgrade, to the point where he might not make the team out of camp, his contract is around $500,000 cheaper AAV than Schenn with one less year. This gives the Flyers much more flexibility when their youngsters start to get expensive. After signing veteran goalie Brian Elliott to a two year deal, a move that brought Philadelphia just $2,424,107 below the salary cap, the Flyers are attempting the nearly-impossible task of trying to rebuild and contend at the same time.
X-Factors
Team MVP: Claude Giroux
Giroux's offense has been in a steady decline since the 2013-14 season. In the last four seasons he has had point totals–in chronological order–of 86, 73, 67, and 58 last season. Not counting the lockout shortened 2012-13 season, last year's point total was Giroux's lowest since he put up 47 points in his 2009-10 sophomore  season.
Despite plummeting offensive output, Giroux is still Philadelphia's most important player. He led all Flyers forwards in ice-time with a TOI of 19:07, powerplay ice-time with 307:05 and assists per 60 minutes with 1.68. He is also the team's premier faceoff man winning 459 offensive zone faceoffs (57.7%), 250 defensive zone faceoffs (59.5%) and 268 neutral zone faceoffs (50.3%).
While at 29 years old Giroux is on the cusp of being an "old" NHL player, I have no doubt that he will bounce back from last years 14 goal output. He is still supremely skilled and his name still carries the weight to draw the other team's toughest matchups.
Team's Strength: Depth down the middle
The Pittsburgh Penguins have won three Stanley Cups in the past decade and their strength for each one happened to be their supreme talent and immense depth at centre. Crosby and Malkin are enough to give any team fits, but once you follow them up with the likes of Nick Bonino, Jordan Staal, Matt Cullen, Max Tablot and Tyler Kennedy you really start to force the other team's hand.
The Flyers seem to have taken a page out of the book of their in-state rivals and have a nice collection of centremen of their own. Despite a dropoff in scoring, Giroux is still one of the most talented forward in the NHL. Nolan Patrick is NHL-ready with a good shot at developing into a very effective No. 2 centre.
One guy who just doesn't get the same buzz as Giroux and Patrick is 2011 eighth overall pick Sean Couturier. He has quietly developed into a very capable second option at centre. He gets plenty of powerplay and penalty kill time and his strong zone-entry play has gone a long way in making the Flyers one of the strongest possession teams in the NHL.
Beyond their core three, the Flyers have some other centre options. Veterans Filppula and Lehtera can spot some time at the centre pivot. Youngsters Travis Koenecny and Scott Laughton have impressed early in their careers and could look to centre one of the bottom six lines if there's no room on the of one of the top two lines. The Flyers have options upfront and if they're firing on all cylinders the team should be a matchup nightmare all season long.
Team's Weakness: The crease
Since Ron Hextall's last season as a starter in 1997-98 the Flyers have seemingly thrown anyone and everyone in the net to see if they can stop some rubber. John Vanbiesbrouck, Roman Cechmanek, Robert Esche, Antero Niittymäki, Martin Biron, Brian Boucher, Michael Leighton, Ray Emery, Sergei Bobrovsky, Ilya Bryzgalov, Steve Mason and Michal Neuvirth round out two decades of two-ply soft goaltending. Keep in mind that Bobrovsky didn't become Vezina Bob until he was flipped to Columbus for three non-first round picks (a trade made to make room for Bryz) and it looks even more bleak.
With Voracek and Giroux in their prime and making big money with a young and talented supporting cast on entry level deals, this team needs to win sooner rather than later. This is why it's integral that Brian Elliot is the one to backstop the Flyers to the next level. At age 32 on a two year deal with an AAV of $2,750,000, the Flyers hope that Elliott can bounce back from a disappointing 2016-17 season. If Elliott plays like he did with the St. Louis Blues, where he posted a .925 save percentage over three seasons, Flyers fans will be ecstatic.
Rookies/Farm:
Along with Nolan Patrick, rookie forward Taylor Leier and defenseman Robert Hagg are breaking camp with the Flyers. Leier was a Flyers fourth round pick in 2012 and turned some heads in preseason with a 3 points in 4 game performance. 22 year-old Hagg is a stay-at-home blueliner who doesn't move the needle to much. But he's solid enough to step into the lineup and give some of their project players some time to develop.
As of right now defensemen Travis Sanheim (17th overall in 2014) and Samuel Morin (11th overall in 2013) are still on the bubble to make the opening night roster. Sanheim is a well-rounded defenseman who has outgrown the AHL and Morin is a 6'6″ mammoth who has developed into a strong-skating shutdown guy during his time in Lehigh Valley. They're both knocking on the door and should add to the Flyers' young and mobile defense.
Key Player: Ivan Provorov
Just one year ago Philadelphia entered the season with Shane Gostisbehere as the present and future of their blueline. Gostisbehere had just finished second in Calder voting behind Panarin (ahead of McDavid). Gostisbehere's high octane play and impressive scoring numbers excited fans and Philadelphia management alike.
But last season Provorov was able to leapfrog the Ghostbear on the Flyers defensive hierarchy. Philadelphia's 7th overall pick in 2015 broke out in a big way last year and became an absolute horse for the Flyers. He led Philly defensemen in ice-time with a TOI of 21:58 playing in all situations. Provorov was leaned on heavily on the PK and scored at a relatively high clip despite riding shotgun to the Ghostbear on the powerplay. As Philly develops into a contender, Provorov will be tasked with stabalizing a young blueline that will almost assuredly go through some growing pains.
Our Rankings
T. Waind: 21st
C. Burgess: 17th
B. Ballantyne: 17th
---
A lot has to go right for the Flyers to fight their way through the suddenly deep Eastern Conference. Voracek and Giroux need to rediscover their scoring touch, the young blueline needs to play above their age and, most importantly, they need a goalie to consistently stop the puck. I'm actually a big believer in this team's talent. They just have so many blue chip guys on the backend and more than enough playmakers at the top of their lineup that they shoud be knocking on the door of contention. Don't be shocked if they grab a wild card spot this year.