2017-18 Bench Life NHL Previews: 18. New York Rangers
Part 14 of 31 in our NHL previews where Ballantyne, Waind and I rank each NHL team 1 through 31 and give you an outlook on their season. Starting from the worst, we'll be giving you the reasons why we ranked each team where we did.

Check out the other parts to this series:

#31. Colorado Avalanche , #30. Vegas Golden Knights, #29. Vancouver Canucks, #28. Detroit Red Wings, #27. New Jersey Devils, #26. Arizona Coyotes, #25. Buffalo Sabres, #24. Winnipeg Jets, #23. New York Islanders, #22. Florida Panthers, #21. Los Angeles Kings, #20. Carolina Hurricanes, #19. Philadelphia Flyers
2016-17 Recap
Record: 48-28-6 (102 points) 4th in Metropolitan Division, (9th overall)
GPG: 3.09 (4th)
GAPG: 2.63 (12th)
PP%: 20.2% (11th)
PK%: 79.8% (19th)
Corsi For %: 49.1 (21st)
While the Rangers were able to make the playoffs last year in a Wild Card spot, their record indicates that they were much better than that of a typical Wild Card team. They were one of five teams in the East that finished with over 100 points, and did so while playing in a pretty stacked Metropolitan Division. If they were in the Atlantic, they would've been the 2nd place team in the division.
Part of their recent run of success can be attributed to the fact that Lundqvist has been one of the best goalies in the NHL for the last decade or so. But one of the only accolades missing from his collection is a Stanley Cup. At 35, he's entering the final few seasons of his career, but the former 7th round pick in 2000 is still capable of leading this team back to the playoffs. Despite only playing in 55 games last season, he was still able to manage 31 wins. The concerning part of last season was his 2.74 GAA and .910 SV%, both below his career average. However, once playoffs started, these numbers improved to 2.25 GAA and .927 SV%. In addition to that, it seems like saves like this have started to become the norm for King Henrik.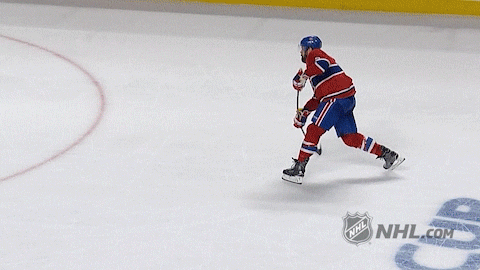 The Rangers defense has been steady over the last few seasons, but last year they started to show some signs of weakness. Longtime staple on the blueline Dan Girardi was no longer worth his $5.5 million salary, and was bought out at the end of the season. Kevin Klein also saw his value drop last season, and ultimately retired in July. However, the blueline also provided a lot of scoring for the Rangers last season. Ryan McDonagh was the 6th highest scoring on New York last year, scoring 42 (6G, 36A) points last season.
Up front, while the Rangers had some big names, nobody was able to take control of the offense and score on a regular basis. Mats Zuccarello, their biggest offensive weapon, finished the season with 15 goals and 44 assists for 59 points in 80 games finishing 44th in league scoring. The Rangers have some depth and a lot of guys that are still capable of scoring, but it's time to admit that Rick Nash is past his prime. The 40 goal seasons are gone, and Nash looks more like a secondary option than an elite scorer on this team. Despite a lot of their key players getting older, the Rangers have shown that they are still a legitimate contender come April.
2017-18 Outlook
List of Key Additions: Kevin Shattenkirk, David Desharnais, Ondrej Pavelec, Anthony DeAngelo
List of Key Departures: Dan Girardi, Kevin Klein, Derek Stepan, Antti Raanta
The Rangers signed arguably the biggest Free Agent available this offseason in Kevin Shattenkirk, providing a much needed boost to their aging defense group. While at $6.65 million per season for the next four seasons, Shattenkirk didn't come cheap, but he does keep that Stanley Cup window open for the Rangers just a little bit longer. For the Rangers to have a chance, Lundqvist needs as much help as he can get in front of him. This also explains the trade with the Coyotes which saw Derek Stepan and backup goalie Antti Raanta head to the desert, while the Rangers received 21 year old Anthony DeAngelo and the 7th overall pick (used to select Lias Andersson).
To replace Raanta, the Rangers signed Jets castaway Ondrej Pavelec. After playing in only 8 NHL games last season, New York offered Pavelec a relatively safe 1 year, $1.3 million contract. If he can find his form again, the Rangers got a steal on their backup. If he can't, then it's only one year and a cheap contract. But it's clear that Lundqvist will be counted on to carry the workload in net for the Rangers this season. He's only been able to play in 60 games once over the last three years, but the Rangers are banking on him to stay healthy and reach that number once again. The days of King Henrik playing 70+ games are over, at 35 that's just not possible anymore. But that's not to say he doesn't have any good hockey left to play. He's still one of the top goalies in the league, and only a few seasons removed from his last Vezina Trophy nomination.
The loss of Derek Stepan creates a hole in the top 6, and David Desharnais is not the guy to replace that production. Currently projected to be the 4th line centre, Desharnais provides depth more than anything. With just 14 points in 49 games last season, it's hard to see him providing much of an offensive boost to the team. The strength of this New York forward group is down the left side, where they have Chris Kreider, Rick Nash, Michael Grabner and Jimmy Vesey. If the Rangers younger players are able to produce, they can inject some life into this group and help lead the way to another playoff run in New York.
X-Factors
Team MVP: Mats Zuccarello
The Rangers leading scorer from last season will be expected to continue to lead the offense again this year. Although currently projected as the 2nd line right winger behind Pavel Buchnevich, he's also slotted to be on the first powerplay unit, the spot where he recorded 14 powerplay points last season. Since becoming a mainstay with the Rangers in 2013, Zuccarello's lowest point total was in 2014-15 when he had 15 goals and 34 assists for a total of 49 points. He's been consistent for a team that sometimes has lacked consistency, and has become one of the most important players for a team that includes former Rocket Richard Trophy winner and 2-time Olympic Gold Medalist Rick Nash. While his name might not carry that same amount of weight, Zuccarello is a more important piece of the Rangers than Nash is heading into this season.
Team's Strength: Top Defensive Pairing
After signing Shattenkirk in the offseason, the Rangers top pair went from being good to great. Both McDonagh and Shattenkirk could be considered a #1 defenseman on most teams, yet the Rangers are in a position to throw them both on the ice at the same time. They combined for 98 points last season, Shattenkirk with 56 and McDonagh with 42. The Rangers now have a top defenseman on both powerplay units, helping to quarterback a powerplay that was already in the better half of teams last season. Putting Shattenkirk's scoring ability into perspective, he would've been tied for 2nd in scoring on the Rangers last season. Aside from this offensive boost that both players provide, it also gives New York a strong shutdown pair to throw out against other team's top lines.
This pairing will look to make Lundqvist's season easy, providing him with not only some help in front of him, but also some insurance at the offensive end of the rink.
Team's Weakness: Not replacing Stepan
When the Rangers traded Derek Stepan to the Coyotes in June, it created the question: who would replace him on the first line this year? That question is still unanswered with the regular season now officially underway. Stepan was on the ice for an average of 18:37 minutes last season, the most among Rangers centremen, and second behind only Zuccarello among forwards. They've moved Zibanejad into that first line role, but last season didn't exactly go as planned for the 24-year old Swede. Recording 37 points in just 56 games, Zibanejad averaged 17:04 minutes per game, good for third among forwards. Obviously, staying healthy will be important for Zibanejad as he moves into that #1 centre role, but Rangers fans must be at least a little bit worried about whether or not he has what it takes to line up against other top centres like Crosby, Bergeron, McDavid or Tavares.
Rookies/Farm: 
The Rangers had two 1st round picks in the 2017 Draft, and selected two European centres in Lias Andersson and Filip Chytil. After acquiring the 7th overall pick from the Coyotes, the Rangers decided to address their lack of down the middle. With that pick, the Rangers drafted Andersson, a strong two-way player who has the intangibles to be a top 6 player, but also the heart to be a role player. Being drafted so high, my guess is the Rangers are hoping he can be a combination of both. While his numbers might not reflect his talent (9 goals, 10 assists), part of this is because the 18 year old spent last season playing in the Swedish Hockey League while his team, HV71, went on to win the league last season. While he's not ready to make the jump to the NHL yet, it should only be a few years before he becomes an impact player in New York.
As for Chytil, he's set to break into the NHL this season, currently projected as their 2nd line centre. Having only scored 8 points last year, it's hard to predict how successful his transition to the NHL will be. He stood out in the Czech Extraliga for his offensive talent and ability to play at high speeds, and clearly the Rangers see enough potential in him to keep the 21st overall pick in New York to start the season.
Key Player: Chris Kreider
Known for being a player that plays on the edge, Kreider serves the role of power forward on the Rangers. At 6'3 and 224 pounds, he can find the net while also wearing out opponents physically. Last season he scored 28 goals and 25 assists for 53 points, while also recording 132 hits at even strength, first among all Rangers forwards. Kreider is most effective when he's playing physical, but he's beginning to cross the line between physical and dirty, especially when it comes to contact with goalies. Some notable incidents have involved Craig Anderson, Marc-Andre Fleury, and most memorably Carey Price.
With Stepan gone, and no comparable offensive replacement joining the team, so the Rangers need players from within the organization to step up and score. Heading into 2017-18, Kreider can be one of the players that helps keep the Rangers in a playoff spot when April comes.
Our Rankings
C. Burgess: 13th
T. Waind: 19th
B. Ballantyne: 20th
---
Coming in ranked at #18 on our list, I honestly feel like we have the Rangers ranked a bit lower than they should be. Yeah, losing their #1 centre is going to hurt, but it's hard to picture the 9th best team last season dropping so far. Lundqvist still has a few good years left in him, and as long as he's playing well the Rangers will always find themselves in the playoff picture. It's just sad that they wasted the prime of his career. The Rangers have it tough, trending the wrong way in a tough division. Pittsburgh, Washington and Columbus will likely get the three playoff spots in the Metropolitan Division, leaving New York fighting for a wild card spot again. Despite how tough this division is, I'm still finding it hard to bet against the Rangers. The addition of Shattenkirk could be the most important move the Rangers have made in a while. It seems as though a lot of people are expecting New York to drop off this year, but don't be surprised to see them making another playoff run in the spring.