2017-18 Bench Life NHL Previews: 17. Calgary Flames
Part 15 of 31 in our NHL previews where Burgess, Waind and I rank each NHL team 1 through 31 and give you an outlook on their season. Starting from the worst, we'll be giving you the reasons why we ranked each team where we did.

Check out the other parts to this series:

#31. Colorado Avalanche , #30. Vegas Golden Knights, #29. Vancouver Canucks, #28. Detroit Red Wings, #27. New Jersey Devils, #26. Arizona Coyotes, #25. Buffalo Sabres, #24. Winnipeg Jets, #23. New York Islanders, #22. Florida Panthers, #21. Los Angeles Kings, #20. Carolina Hurricanes, #19. Philadelphia Flyers, #18. New York Rangers
2016-17 Recap
Record: 45-33-4 (94 Points) 4th in Pacific Division (15th Overall)
GFPG: 2.76 (T-15th)
GAPG: 2.70 (14th)
PP%: 20.16 (11th)
PK%: 81.59 (12th)
The Flames impressed last season, returning to the playoffs after falling off in 2015-16, despite extremely unreliable goaltending at times. This past season was head coach Glen Gulutzan's first at the helm of the Flames and his guidance helped them claim the second wildcard spot in the Western Conference. Unfortunately for them, they ran into a more seasoned Ducks team in the first round and were swept in four games. Although this was a disappointing result, the Flames have shown they have what it takes to be a playoff team, and there's no reason they can't build on things heading into 2017-18.
Sam Bennett had an underwhelming season, but the emergence of Matthew Tkachuk overshone this as he provided 48 points as a rookie. Johnny Gaudreau continued to prove he was a steal of a 4th round pick, while leading the Flames in scoring (61 points), even after missing ten games. The goaltending situation in Calgary was awful last season, and the position was a clear priority to upgrade after their signing of Brian Elliott didn't pan out. Even with this being the case, the Flames still only allowed the 14th most goals per game in the league last season, a pretty average standing, and one that makes you wonder what they could be capable of if they managed to receive some timely saves.
2017-18 Outlook
List of Key Additions: Mike Smith, Travis Hamonic, Jaromir Jagr, Eddie Lack, Tanner Glass
List of Key Departures: Brian Elliott, Deryk Engelland, Chad Johnson, Dennis Wideman, Alex Chiasson
The Flames acted on their goaltending priorities in shipping out both of their top two (Elliott and Chad – not Ochocinco – Johnson) and bringing in the pair of Mike Smith and Eddie Lack via separate trades with the Coyotes and Hurricanes. The Flames hope Smith is the solid number one they've been desperate for since Kiprusoff. It'll be interesting to see how well he performs in what's surely a situation where the D corps is the best he's played with in years, after he'd been left out to dry in the desert for so long. Actually, it's arguably the best defenseman group in the league as well after the addition of Travis Hamonic to join their solid, preexisting core. The Flames are a team built from the crease out, so that means their top forwards are going to be relied upon heavily because of a lack of depth in terms of scoring. That being said, Gaudreau aside, Sean Monahan has become a reliable 60-point front line option, you know what you're getting from Michael Frolik, Sam Bennett can't be any worse than he was last season, Tkachuk will likely take another step, and…the Flames now have the ageless wonder, Jaromir Jagr (Your prayers have been answered, Burgess). If nothing health related hinders the Flames' top forwards, they should find their way back into the playoffs.
X-Factors:
Team MVP: Johnny Gaudreau
After many questions in the early parts of his career as to whether his game and size will translate to the NHL level, the 2011 4th round pick has developed into the offensive catalyst that sparks the Flames attack. In each of the past three seasons (the only full seasons of his career) Gaudreau has put up at least 60, with an average of 67.6 per season. Gaudreau is a shifty playmaker that lead the Flames forwards in even-strength and power-play ice time last season. He missed 10 games last season after taking a slash on the hand and requiring surgery to repair a broken finger. It's key for the Flames that Gaudreau stays healthy and contributing for them this upcoming season, because even at just 5'9" 157lbs, there's no one in their organization that can fill his shoes in terms of offensive impact.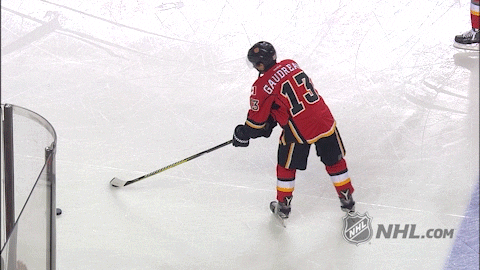 Team's Strength: Defense
This Flames D-corps is a crazy deep group. It's clear they've decided to adopt the philosophy that "defence wins championships", and it has gotten them to a point where they arguably have the best top-4 in the league. Mark Giordano, T.J. Brodie, Dougie Hamilton and a trade for Travis Hamonic gives them a balance of young and old, high end guys that can each contribute on the offensive end on a fairly regular basis (Hamonic less so). The resigning of Michael Stone just magnifies the embarrassment of riches they have on the blue-line as they have five different guys they can throw out on the ice that can play high-teens minutes in their sleep. Mike Smith's numbers were trash in Arizona over the past few years, but playing behind this group should be a stabilizing presence.
Team's Weakness: Right Wing
It's no fluke that the legendary Jaromir Jagr chose to join the Flames recently, it's because there's opportunity for a top-six role. The current right side depth chart of the Flames forward group is Michael Ferland, Michael Frolik, Jagr and Troy Brouwer. Frolik is a solid player, but he's never had more than 45 points in a season in his career. While Ferland and Brouwer are coming off of seasons of just 25 points each (they're paying Brouwer three more years at $4.5 million per, ouch). Even though Jagr has over 1700 games of proven NHL production, he's still 45 years old, so you never know, this could be the season time finally catches up to him. Bottomline, the Flames right side lacks impact players and has questions to be answered, hopefully for them they can find someone who steps up and exceeds in their role.
Rookies/Farm: After Matthew Tkachuk's impressive Rookie campaign last season, he remains the "kid" on this Flames roster as their are no new rookies making the jump this season, at least out of camp. But a lack of rookies does not mean a lack of young talent on this team, as the Flames' Sam Bennett, Johnny Gaudreau, Dougie Hamilton (when is he just going to be Doug?), Sean Monahan, and Tkachuk are all 24 or younger, so there's nothing to worry about in that respect.
As for their prospect stable, Spencer Foo was a nice addition this past offseason. Foo was signed as an undrafted free agent as the Flames scooped him from Union College of the NCAA after attracting a lot of interest league wide. The 23-year old is a bit older than your typical prospect, but his 62 points in 38 games last season give the Flames reason to believe Foo at least has the chance to one day fill in one of the their glaring holes at right wing.
The Flames used their 16th overall pick in the most recent draft to select Juuso Valimaki from the Tri-City Americans of the WHL. Valimaki is a defenseman, so the Flames certainly aren't needing his services at the NHL level anytime soon, but his 61 points in 60 games last year is certainly a nice talent to have tucked away for their blueline in the future.
Key Player: Sean Monahan
Monahan has became the go-to number one centreman for the Calgary Flames, and is the linemate of left-winger Johnny Gaudreau. Still just 23 years old, Monahan has established himself as a reliable, consistent offensive source for this Flames team. Over the past three seasons, Monahan has put up 62, 63 and 58 points with 27 goals being his floor over that period of time. With a lack of offensive depth down the middle at the centre position, aside from Mikael Backlund, Monahan's role could not be more defined. It's key Monahan shows up for the Flames to experience any postseason success, but they shouldn't have to worry about him.
Ballantyne: 14th

Burgess: 21st

Waind: 17th
---
This is a team that's built for playoff hockey with their deep defensive lineup, but the question is, can they get back there? I think they can. I believe the Flames made a solid move adding Mike Smith and that he'll regain some of his old form playing behind a more stout defensive unit. Glen Gulutzan now has more familiarity with his group, and they should have a better chance to create on offence due to further growth from their key young players within his system. The Flames proved last year they could make the playoffs with inconsistent goaltending, if they get any semblance of something good from Smith they'll be fine, and you can pencil them into a wild-card spot.
Burgess and Waind ranked this team too low for my liking. I just can't wrap my head around putting a team any lower on this list than 14 when they will always have one or more reliable, battle tested defensemen like Giordano, Brodie, Hamilton and Hamonic on the ice. As long Johnny Hockey, Monahan and the boys up front pot their fair share of goals, we'll see these Flames burning teams come spring.