2017-18 Bench Life NHL Previews: 15. Ottawa Senators
Part 17 of 31 in our NHL previews where Ballantyne, Waind and I rank each NHL team 1 through 31 and give you an outlook on their season. Starting from the worst, we'll be giving you the reasons why we ranked each team where we did.

Check out the other parts to this series:

#31. Colorado Avalanche , #30. Vegas Golden Knights, #29. Vancouver Canucks, #28. Detroit Red Wings, #27. New Jersey Devils, #26. Arizona Coyotes, #25. Buffalo Sabres, #24. Winnipeg Jets, #23. New York Islanders, #22. Florida Panthers, #21. Los Angeles Kings, #20. Carolina Hurricanes, #19. Philadelphia Flyers, #18. New York Rangers, #17. Calgary Flames, #16. Boston Bruins
2016-17 Recap
Record: 44-28-10 (98 points) 2nd in Atlantic Division (12th overall)
GPG: 2.51 (22nd)
GAPG: 2.56 (10th)
PP%: 17.0% (23rd)
PK%: 79.7% (22nd)
Corsi For %: 48.3 (25th)
The Senators exceeded the expectations of almost everybody last season, despite having Craig Anderson missing about half of the season. When Anderson did play however, he was stellar, leading Ottawa to 25 wins with his 2.28 GAA and .926 SV% in his 40 games last season. Anderson missed time to be with his wife who was diagnosed with cancer last fall. While he was away, the Sens relied heavily on backup Mike Condon, playing 38 games and winning 19 of them. Despite not having a true #1 goalie, the Senators goaltending actually held up well last year, finishing 10th with just 2.56 goals allowed per game.
However, the biggest strength of last year's Senators team was their captain Erik Karlsson. Putting together a season that would have been more than worthy of a Norris Trophy if not for the play of San Jose's Brent Burns, Karlsson finished the year with 71 points in 77 games, while adding another 18 points through 19 games in the playoffs.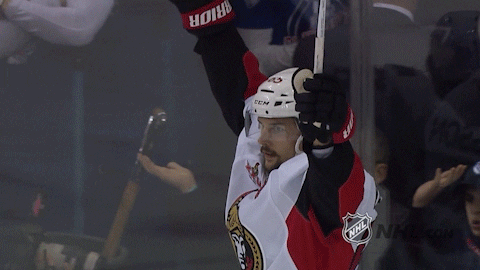 Karlsson provided the majority of scoring from the Senators blueline, with the second highest scoring defenseman being former Leaf legend Dion Phaneuf. It seems like it doesn't matter what issues the Senators have with slumping forwards, or even unsteady goaltending. Erik Karlsson can pretty much singlehandedly carry this team to a playoff birth. However, as we saw last year, when this team was firing on all cylinders, they forced overtime in Game 7 in the Conference Finals against the eventual Stanley Cup Champion Pittsburgh Penguins.
They may be the forgotten team in Ontario, but the Senators are proving that they should still be taken seriously.
2017-18 Outlook
List of Key Additions: Johnny Oduya, Nate Thompson
List of Key Departures: Chris Neil, Viktor Stalberg, Chris Kelly, Marc Methot, Tommy Wingels
The Senators offseason was quiet, with their only two notable signings being made to add depth to the roster. For the most part, Ottawa is expecting players within the organization to step up. While Chabot has already been sent down and called back up from the minors, it seems like it's only a matter of time until the 2017 World Junior Championship MVP earns a permanent spot with the Senators. In the meantime, Johhny Oduya will provide some depth and leadership to their defense, while Nate Thompson will slot in on the fourth line for the Senators.
Ottawa's top 6 forwards remain the same as last year, which can either be a good or bad thing. Bobby Ryan is a player who stands out as somebody needing to step up, after putting together a miserable 25 point regular season last year. However, he gave Sens fans hope in the playoffs, scoring 15 points in 19 games, leading many to believe he's still capable of producing at the level which Senators fans were expecting when they traded for the former 2nd overall pick. Other than Ryan, players such as Hoffman, Stone, Turris and Brassard will need to provide the majority of scoring from the forwards. However, having Burrows and Pageau in the bottom 6 gives the Senators a bit of scoring depth heading into the season.
X-Factors
Team MVP: Erik Karlsson
Karlsson's 2016-17 season proved that he might be even better than we've been giving him credit for. Not only has his defensive side of the game improved, but he is by far the most important offensive piece on this team. It's no question that this is his team now, the only question is how much more can he do to improve this team? Is it even possible that Karlsson can get any better?
Still trying to recover from the ankle injury that forced him to miss some time at the end of last season, Karlsson has yet to play this season. It's still unclear how much time he'll miss or how effective he'll be when he returns, but Karlsson at 75% is still a lot better than most NHL defensemen at 100%.
Team's Strength: Craig Anderson
How do you win games when your team doesn't score? You find a goalie that can routinely stand on his head to shut down opposing teams and bail you out when Dion Phaneuf gets caught staring into space. That's exactly what Anderson has done for the Senators, and it's likely what he'll need to do again this year. After missing time to be with his wife, who was diagnosed with cancer last October, Anderson is back with the team full-time this season. Anderson bounced around a bit, and didn't become a true #1 goalie until 2011-12, his first full season with the Senators. He's still searching for his first win this season after 2 shootout losses to start the season, but his .914 SV% is an indicator that his play is not to blame for the slow start to the season.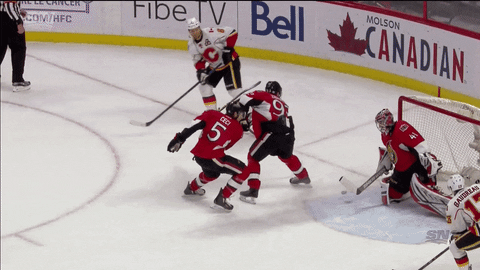 Team's Weakness: Special Teams
Despite having one of the top offensive defensemen in the NHL, the Senators still struggled on the powerplay last season, ranking 23rd in the league at 17.0%. The Senators haven't been a high scoring team, buying into the defensive style that Guy Boucher has implemented. But at some point you need to be able to generate offense. We saw in the playoffs last year against Pittsburgh that you can only hold an offensive team off for so long before they break through, and when that happened the Senators didn't have the ability to score when they needed it most. When you can't score at 5 on 5, you need to take advantage of the powerplay, and that's something the Senators haven't been able to do recently. With the top players on this team remaining the same as last year, the improvement needs to come from within in order to fix the powerplay.
And to make things worse, their defensive game falls apart when on the penalty kill too. At 79.7%, the Senators finished last season with the 22nd ranked penalty kill. Special teams killed the Sens last season. Newly acquired Nate Thompson is a likely candidate to earn some penalty kill minutes, however the Senators last season used just about anybody on the PK, including Erik Karlsson. Cody Ceci and Dion Phaneuf log the most minutes for the Sens on the penalty kill, but Phaneuf also was second on the team last year with 100 PIMs.
Rookies/Farm: 
How long until we see Thomas Chabot finally become a mainstay in the NHL? We've seen that he's one of the top defense prospects, yet he's been unable to stick at the top level. The 20 year old has put up 90 points over 81 regular season games the last two seasons with the Saint John Sea Dogs, along with 44 points in 35 playoff games in that time. Heading into this season, many Sens fans were excited to see their future star defenseman play in the NHL, only for him to be sent down to the minors after their 9-2 preseason loss against Montreal. He's since been called up after notching 2 points in 2 games with Belleville, although it could just be while both Karlsson and Oduya are sidelined with injuries. The Senators need somebody who can move the puck and lead a breakout, something that Chabot has proven he's capable of at other levels of hockey. If he plays the way that we've seen in Junior, Boucher will have some tough decisions to make one his defense group is healthy again.
Key Player: Bobby Ryan
Do the Senators get "Regular Season Bobby Ryan" or "Playoff Bobby Ryan" this year? It seemed like he really was two different players last year, which helped come playoff time but would've been nice if he played like a $7.25 million player all season long. Bobby Ryan finding his scoring touch would be the best thing that could happen for the Senators heading into this season. We see flashes of it, but his scoring hasn't reached the level that many were expecting after he scored over 30 goals in 4 straight seasons with the Ducks. His career high was 71 points in 2010-11, but since becoming a member of the Senators his highest point total is just 56 (22 goals, 34 assists) in 2015-16. Although he's just 30 and still in the prime of his career, it seems like plays like this are a thing of the past.
Our Rankings
C. Burgess: 18th
T. Waind: 16th
B. Ballantyne: 16th
---
It's hard to say who makes the playoffs in a very competitive Atlantic Division, but it's hard to say that the team who nearly knocked off the Pittsburgh Penguins will find themselves on the outside looking in. This team will go as far as a one-legged Erik Karlsson can carry it, which although doesn't sound too promising, is actually a lot farther than you might think.