2017-18 Bench Life NHL Previews: 14. San Jose Sharks
Part 18 of 31 in our NHL previews where Burgess, Waind and I rank each NHL team 1 through 31 and give you an outlook on their season. Starting from the worst, we'll be giving you the reasons why we ranked each team where we did.

Check out the other parts to this series:

#31. Colorado Avalanche , #30. Vegas Golden Knights, #29. Vancouver Canucks, #28. Detroit Red Wings, #27. New Jersey Devils, #26. Arizona Coyotes, #25. Buffalo Sabres, #24. Winnipeg Jets, #23. New York Islanders, #22. Florida Panthers, #21. Los Angeles Kings, #20. Carolina Hurricanes, #19. Philadelphia Flyers, #18. New York Rangers, #17. Calgary Flames, #16. Boston Bruins, #15. Ottawa Senators
2016-17 Recap
Record: 46-29-7 (99 points) 3rd in Pacific Division (11th Overall)
GFPG: 2.67 (19th)
GAPG: 2.45 (5th)
PP%: 16.67 (25th)
PK%: 80.66 (18th)
Corsi For %: 50.5 (10th)

Following a year that culminated with an unexpected Stanley Cup Finals appearance, the Sharks managed to find their way back to the postseason, claiming the third spot in the Pacific division. This standing left them in a first round meeting with the young Edmonton Oilers that proved to be too much to handle, as they were eliminated in six games. The Sharks were carried by the usual suspects in 2016-17, as Brent Burns, Logan Couture, Patrick Marleau, Joe Pavelski and Joe Thornton provided the offence we've come to expect. Starting goalie Martin Jones put up a solid year in his second season as the Sharks starter, finishing 6th in Vezina trophy voting, proving he is a legit, reliable starter moving forward. The Sharks downfall in this season was their secondary scoring production. After a dreadful debut for Mikkel Boedker, and an injury to Tomas Hertl contributing to what was almost a bottom third finish in goals per game for the team.
2017-18 Outlook
List of Key Additions: errrrr, nobody?
List of Key Departures: Patrick Marleau, Mirco Mueller, David Schlemko, Tommy Wingels
The San Jose Sharks obviously didn't do anything to help themselves this offseason, all you need to do is take a look at their offseason additions and subtractions. This means making the playoffs this season could be one of the more challenging times in a while. If you can believe it, this Sharks franchise has only missed the playoffs twice dating back to 1997. That's 17 of the last 19 seasons(!!!). The common denominator for that stat? That was the rookie season of Patrick Marleau, who will be suiting up with another team (Toronto) for the first time in his career. The Sharks still have a solid core despite the loss of Marleau and I believe that they'll be right there in the race for a playoff spot at the end of the season, but it's going to be tight. Their offence this season comes with a fair amount of questions, so don't be shocked if they're on the outside looking in.
X-Factors:
Team MVP – Brent Burns
After a 2015-16 season that included a 75 point outburst, few would've believed that Burns could top that unreal production. But the "bearded one" is coming off of a 76 point season, that included a jump from -5 to +19, and we were quickly shown that Burns had another gear. This showing led to Burns being awarded the Norris trophy as best Defenseman in the NHL. Very well deserved for Burns, as this was a season that included him leading all defensemen in goals, points (9th among all skaters) and leading the entire league in shots on goal. Burns' ability to produce high end offensive numbers as a defenseman is extremely rare and it's why he's the go to guy in the Shark tank.
Team's Strength – Seasoned Veterans
The Sharks are certainly not short of experienced players on their roster, which is an asset they can use to put towards success. This is the third oldest roster in the NHL at an average of 29.1 years old (younger than just Detroit and Ottawa) and the main pieces of this group have been together for a long time. The Sharks have been a perennial playoff team recently, and those appearances have included a number of disappointing playoff exits, but also a Western Conference Championship in 2015-16 too. The likes of Joe Thornton, Joe Pavelski, Brent Burns, Marc-Edouard Vlasic – who has the best nickname in the league by the way, "Pickles" -and Paul Martin can be relied upon to supply the production they have been for their entire careers and their leadership qualities will be key to this team's success. While these guys aren't getting any younger, they each have the ability to uplift the production of their supporting cast on the offensive and defensive ends.
Team's Weakness – Goal Scoring
The San Jose Sharks finished 19th in goals for last season, which is simply not good enough for a team with Stanley Cup aspirations. On top of that, they lost Patrick Marleau in free agency to the Maple Leafs. You're probably thinking "Marleau is old anyways, it doesn't matter", but the fact remains, he was one of four guys to score 25+ goals on this team last year (Burns, Pavelski, Couture). The highest scorers after those four guys? Chris Tierney and Melker Karlsson with just 11. Losing 25% of the group that carried this team's goal scoring and not replacing him is going to be an issue for them. The Sharks have to be banking on Mikkel Boedker to bounce back from his horrendous debut season. Another player that needs to take a step is forward is Tomas Hertl. Hertl missed 33 games last season due to injury and needs to return to his 2015-16 form when he scored 21 goals.
This team's defense is solid and Martin Jones is a legit high end starter in the NHL, but they'll need to find a way to score with regularity in order to keep this group's dwindling Cup hopes alive.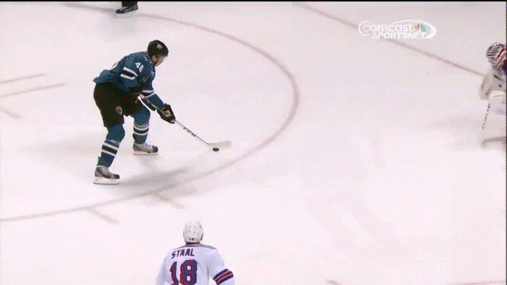 Rookies/Farm –
No Sharks rookies have cracked the roster for this season, as the youth movement on the current roster is led by a pair of sophomores, 22 year-old Kevin Labanc and 21 year-old Timo Meier. Each made their appearances fairly quietly last year, but this year will look to fill the offensive void up front for the Sharks.
As for the draft, the Sharks took Josh Norris 19th overall in the draft this past offseason, and he'll play for the University Michigan this season. Norris impressed at the NHL Combine before the draft this past summer and it's clear the Sharks have an impressive athlete in him. He finished first out of all prospects in five of the events at the Combine including the Wingate Bike test, Pro Agility test (left and right), Vertical Jump and Standing Long Jump. The 6'1", 190lbs Norris is an impressive physical prospect and his 61 points in 61 games last season with the U.S. National Development Program is encouraging. It'll be interesting to watch his development going forward.
Key Player – Logan Couture
We know that Joe Pavelski can be relied upon to produce offense, because of his six consecutive 60+ point seasons (not including the lockout shortened season), and Joe Thornton is Joe Thornton, but after that there are questions for the Sharks up front. Logan Couture has shown flashes in years past of taking a step towards being a star, like during the 2015-16 Sharks cup run when he led the team in points with 30 in 24 games, but the Sharks need him to produce at a high level for a full season in order to succeed. Couture has displayed some inconsistencies in large part due to his health. His games played in the past four seasons have been all over the map at 73, 52, 82 and 65 due to various injury issues. But over those four seasons, Couture has managed to put up a solid 0.77 points per game in the regular season. Couture is now 28, so he's likely not going to show anything more than what we've already seen of him, but there's certainly nothing wrong with that. It's just imperative he stays healthy, because now more than ever the Sharks need his production night in, night out.
Our Rankings
Ballantyne: 15th

Burgess: 16th

Waind: 15th
---
Although this team has achieved regular season success for many years, they haven't managed to get over the hump and win a cup with this core, even in the times when they may have been "favoured" to. The Sharks time may be running out. This core has lost a signature piece in Patrick Marleau, and it'll be interesting to see how this team reacts to that major change. A lot of expectation is still being placed on 38 year-old Joe Thornton after he signed a 1-year $8 million deal in the offseason, but he needs Mikkel Boedker and Tomas Hertl to bounce back and support him as Jumbo Joe can't do it alone. Burns and Pavelski are incredible talents, and Jones, Vlasic and Couture are solid too, but if this group misses the playoffs…have we seen the end of these Sharks as we know them?