2017-18 Bench Life NHL Previews: #5. Minnesota Wild
Part 26 of 31 in our NHL previews where Burgess, Waind and I rank each NHL team 1 through 31 and give you an outlook on their season. Starting from the worst, we'll be giving you the reasons why we ranked each team where we did.

Check out the other parts to this series:

#31. Colorado Avalanche , #30. Vegas Golden Knights, #29. Vancouver Canucks, #28. Detroit Red Wings, #27. New Jersey Devils, #26. Arizona Coyotes, #25. Buffalo Sabres, #24. Winnipeg Jets, #23. New York Islanders, #22. Florida Panthers, #21. Los Angeles Kings, #20. Carolina Hurricanes, #19. Philadelphia Flyers, #18. New York Rangers, #17. Calgary Flames, #16. Boston Bruins, #15. Ottawa Senators, #14. San Jose Sharks, #13. Toronto Maple Leafs, #12. St. Louis Blues, #11. Montreal Canadiens, #10. Edmonton Oilers, #9. Columbus Blue Jackets, #8. Anaheim Ducks, #7. Dallas Stars, #6. Chicago Blackhawks
2016-17 Recap
Record: 49-25-8 (106 points) 2nd in Central Division (5th Overall)
GFPG: 3.24 (2nd)
GAPG: 2.54 (7th)
PP%: 20.98 (9th)
PK%: 82.95 (8th)
The story of the Minnesota Wild's 2016-17 season is definitely centred upon the team's incredible 12 game win streak that broke a franchise record. As expected, a 12-0-1 stretch does well to contribute to a team's standing come playoff time. The Wild finished with 106 points and the second best record in the Western Conference. This positive jump sort of came out of nowhere, as the Wild finished with just 87 points the season prior, but things just finally began to click for this team. Mikael Granlund, Nino Niederreiter, Charlie Coyle and Jason Zucker each blew their previous career-high point production out of the water, while Eric Staal returned to the 65 point plateau for the first time since 2011-12. The Wild received consistent goaltending from Devan Dubnyk and were an exciting team to watch in the regular season. But come playoff time, the Wild were unable to generate the energy they  had shown prior, and dropped an opening round series to the St. Louis Blues in 5 games, something Head Coach Bruce Boudreau has become all too familiar with.
2017-18 Outlook
List of Additions: Matt Cullen, Tyler Ennis, Marcus Foligno, Kyle Quincey, Daniel Winnik
List of Subtractions: Eric Haula, Martin Hanzal, Alex Tuch, Jason Pominville, Marco Scandella, Darcy Kuemper
The Wild's outlook on 2017-18 involves some questions – like if last year was just a flash in the pan or not – but there's no denying the depth that this team possesses up front. It's also clear that Devan Dubnyk has put the shaky Edmonton Oiler days far behind him, and he's going to provide them with consistency in the net, which is huge. While this team lost some pieces in the offseason, the additions they brought in should be able to provide what may have left and will help maintain their balance throughout. What the Wild seem to lack is that elite high end talent. When they signed Zach Parise and Ryan Suter a few years ago to mega-contracts, that was the expectation of them. While they're still good NHL players, they can't be considered studs. It'll be interesting to see the progression of this group so we can get an answer on if last year's "wild" regular season was the real deal, or maybe just a bit of luck.
X-Factors:
Team MVP: Devan Dubnyk
Devan Dubnyk has certainly found a home in Minnesota. Ever since being traded for a 3rd round pick from Arizona during the 2014-15 season, Devan Dubnyk has looked like a brand new goalie. In Dubnyk's 171 games with the Wild, he has the second most wins (99), third best save percentage (.924), fourth best goals against average (2.17), and second most shutouts (15) among NHL starters. And after completing another 60+ start year last season, Dubnyk has solidified himself as a consistent, reliable starter in this league. The Wild rely on the towering goaltender for elite play more than anyone on their team, and with the loss of solid backup, Darcy Kuemper, to the Kings in free agency, expect Dubnyk to be the man pushing the Wild towards a playoff spot once again.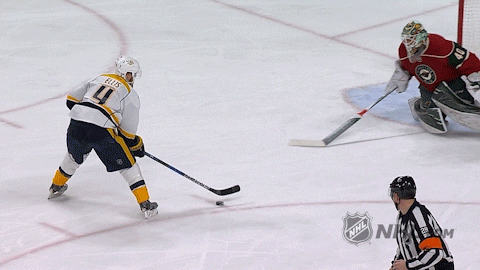 Team's Strength: Scoring Depth
The 2017-18 season was an offensive explosion for this Wild team, and with that it was also a coming out party for a number of players. Mikael Granlund is most notable as he pushed up against the 70-point mark last season, after a career high of just 44 previously. But the entire theme of this Wild team is a balanced, "score-by-committee" culture. Mikko Koivu seems like he's been around forever, and the Captain can always be relied upon to produce respectable offensive numbers. Eric Staal is another vet that's shown he's found his offensive stride after a successful debut season with the Wild, leading the team with 28 goals. Other veterans like Chris Stewart, Matt Cullen, Tyler Ennis and Zach Parise have proven they have what it takes to contribute in this league. Plus, there's the presence of a younger core of players like Charlie Coyle, Nino Niederreiter and Jason Zucker that have an impressive offensive spark as well. This team will run four solid forward lines at teams and they can beat you with skill and speed, or use their size and grind. The forward group is a clear strength for them.
Team's Weakness: Health
The Wild are fortunate that they have the depth that they do, because their team is having challenges with keeping their players on the ice. Zach Parise is the headliner for their health issues, as he's been forced to miss 48 games over the course of his past four seasons with the team. But it's not just Parise, in the early goings of this season, the Wild have seen Marcus Foligno, Niederreiter, Coyle and Granlund, in addition to Parise, all placed on the IR. Injuries are an issue for all teams to deal with, but the Wild have been in pretty deep with them as of late.
Rookies/Farm:
The Wild have a couple of notable rookie forwards they have added to their team for this season. The first being Joel Eriksson Ek, who had made an appearance after a call up last year, but this will be his first full season. Eriksson Ek is a 20 year-old Swedish centreman who was selected 20th overall by the Wild in the 2015 draft. He did manage to put up 7 points in his 15-game trial last season, but he'll be seeing bottom six minutes for now.
The second rookie is 20 year-old American forward, Luke Kunin. Kunin is getting his first taste of NHL hockey this season after splitting last year with the University of Wisconsin and the AHL's Iowa Wild. Kunin was the 15th overall selection of the Wild in 2016 and was captain of the U.S. World Junior Championship team that won gold this past winter.
Key Player: Mikael Granlund
Last season, the 25 year-old Granlund finally appeared to grow into the expectations that were placed on him after being made the 9th overall pick in the 2010 NHL Draft. Remember when he did this?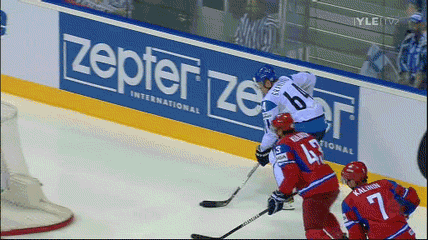 Granlund is known for his playmaking talent, but finally started putting the puck in the net last year as well with 26 goals, second on the team behind Eric Staal. The Wild had a hell of an offensive season last year and a large portion of that was because of Granlund's emergence as a legit, consistent threat. Granlund needs to come back just as good or better than last year to prove that production was no fluke, and the Wild as a whole need to do the same.
Our Rankings:
Ballantyne: 11th

Burgess: 2nd

Waind: 4th
While I'm not necessarily drinking the Minnesota Wild "Kool-Aid" as much as Burgess and Waind are this season, I am a fan of their depth. I just don't want to write this team off as a Cup contender after what was a seemingly out of nowhere amazing regular season. The playoffs were a failure for them last year, and I doubt we'll see another 12-game win streak from them once again. They have the pieces up front, a solid enough defense corps, and a high-end goaltender; so they're a playoff team in my mind. But anything more than that? I'll need to see it before I believe it.