2017-18 Bench Life NHL Previews: 2. Nashville Predators
Part 30 of 31 in our NHL previews where Waind, Burgess and I rank each NHL team 1 through 31 and give you an outlook on their season. Each of our previews will be given to you in order of where we collectively power ranked that team.

Check out our other previews:

#31. Colorado Avalanche , #30. Vegas Golden Knights, #29. Vancouver Canucks, #28. Detroit Red Wings, #27. New Jersey Devils, #26. Arizona Coyotes, #25. Buffalo Sabres, #24. Winnipeg Jets, #23. New York Islanders, #22. Florida Panthers, #21. Los Angeles Kings, #20. Carolina Hurricanes, #19. Philadelphia Flyers, #18. New York Rangers, #17. Calgary Flames, #16. Boston Bruins, #15. Ottawa Senators, #14. San Jose Sharks, #13. Toronto Maple Leafs, #12. St. Louis Blues, #11. Montreal Canadiens, #10. Edmonton Oilers, #9. Columbus Blue Jackets, #8. Anaheim Ducks, #7. Dallas Stars, #6. Chicago Blackhawks, #5. Minnesota Wild, #4. Tampa Bay Lightning, #3. Washington Capitals
2016-17 Recap
Record: 41-29-12 (94 points) 4th in Central Division (17th Overall)
GFPG: 2.93 (11th)
GAPG: 2.73 (15th)
PP%: 18.92 (16th)
PK%: 80.91 (15th)
Corsi for %: 51.1% (8th)

The 2016-17 regular season was quite underwhelming for the Predators. Injuries and slumps from key players saw them barely squeak into the playoffs as the second wild card team in the Western Conference. But they quickly flipped the script in the postseason and looked like an entirely new team in the process. After sweeping through the experienced Chicago Blackhawks in the first round, Nashville steamrolled their way to the franchise's first ever Stanley Cup Final appearance after a couple of 6 game series victories over the Blues and Ducks. Losing to the defending Cup champion Penguins was certainly a disappointment, but it was a playoff run that opened the eyes of the hockey world to the city of Nashville and its hockey-rabid fans. The Predators were a Cinderella team last season, and the excitement and expectation is sure to be high heading into 2017-18.
2017-18 Outlook
List of Additions: Nick Bonino, Scott Hartnell, Alexei Emelin, Kyle Turris
List of Subtractions: James Neal, Mike Fisher, Colin Wilson, Mike Ribeiro, Samuel Girard
When deciding where to rank this team in the preseason, I didn't see anything that stuck out and suggested that there was any reason to alter the status quo; so I believe Nashville is rightfully placed at number two in the power rankings. The team managed to effectively patch the holes made in the offseason with their additions.
The biggest losses were definitely James Neal at the hands of the expansion draft, and Captain Mike Fisher who retired. But bringing in two-time champion Nick Bonino to fill in a middle-six centre position is an improvement over Fisher, so the only concern may have been the team's goal scoring after losing perennial 20+ goal scorer, Neal. But with the recent trade for Turris, there isn't really much to pick apart about this team. The forwards are young, fast and skilled; the defense corps is deep and talented; and Pekka Rinne is a seasoned vet. There's no reason to believe we won't see Smashville and an excessive amount of Catfish for an extended period come playoff time.
X-Factors:
Team MVP: Roman Josi
Josi is entering his seventh season with the Predators franchise and his first as captain of the team. The 27 year-old, skilled, Swiss defenseman is coming off of his third consecutive season leading the Preds in ice time, and yes, that's including when Shea Weber was there (he was for two of them).
Josi is the leader of a blueline that received massive praise in the playoffs last season for its ability to contribute on the offensive end. He's finished with 49, 61 and 55 points in each of his last three seasons, solidifying himself as a legit offensive threat. I've always had a soft spot for Josi because that 61 point season helped lead me to a fantasy hockey championship a couple years ago, but that's beside the point. He's a legit MVP for this team and is definitely one of the lesser recognized stars in the league.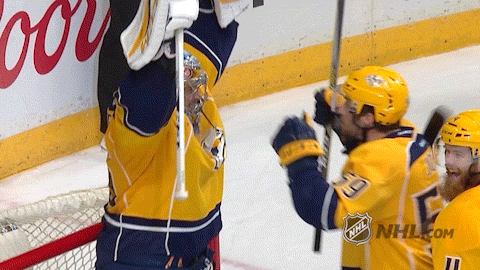 Team's Strength: Offense generated from the blueline
As mentioned above, Roman Josi is a reliable offensive threat. But the attack doesn't stop there for the Preds. When you're also rolling out an electrifying offensive talent and former Norris trophy winner in P.K. Subban, your team is in a good place.
But you can't forget about Ryan Ellis and to a lesser extent, Mattias Ekholm. Subban, Ellis and Ekholm finished with 40, 38 and 23 points in the 2016-17 regular season, respectively. Good for 0.61, 0.54, 0.28 points per game averages for the trio (Josi averaged 0.68). But in the playoffs when the Preds needed it most, the offense spread across all four more evenly, and each of them finished in the top eight in team scoring among all skaters. Ekholm saw the biggest uptick in his production, racking up 11 points in 22 playoff contests and averaging nearly double his regular season points per game.
Team's Weakness: Goaltending?
Pekka Rinne is perceived to be one of the high end goalies in this league, but he's now 35 years of age and has experienced a decline in his production over the past couple of seasons. The 2014-15 season saw him finish second in Vezina trophy voting while posting an impressive .923 save percentage and 2.18 goals against average. Since that season, Rinne has dipped to marks of .908, 2.48/.918, 2.42 in the past two seasons.
He had some shaky performances in last season's playoff run, but overall it appeared he had enough in the tank to backstop a team with Cup-winning intentions. Either way, it'll be interesting to see how Rinne fares this year. Maybe his downward trend isn't a decline in his abilities and he can break out of the funk.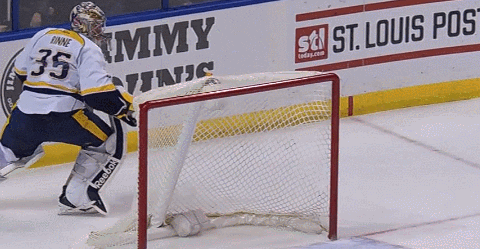 Rookies/Farm:
Defenseman Samuel Girard looked like he was going to be a great rookie to watch this season, as he was filling in nicely for the injured Ryan Ellis. But the Preds felt comfortable enough in making Girard a major piece in a deal that brought Kyle Turris to town from Ottawa.
So now with Girard gone, Pontus Aberg and Frederick Gaudreau are the lone rookies to watch. Aberg and Gaudreau played just 24 regular season games combined between the two of them last season. But the average fan was formally introduced to them during the Preds deep playoff run where Aberg played in 16 playoff games and Gaudreau played in 8 of the team's 22 games. This isn't a pair of prototypical rookies, as both are now 24 years old. But Aberg comes with more pedigree as the Swede was the 37th pick in the 2012 draft, while Gaudreau was undrafted.
The Predators took Eeli Tolvanen with the 30th pick of 2017's draft. Tolvanen will be playing for Jokerit in the KHL this season and probably won't be ready for the show for a couple of years. But he's shown good goal-scoring upside with 30 goals in 52 games with Sioux City of the USHL last season.
Key Player: Filip Forsberg
Filip Forsberg had an awful start to the 2016-17 season with just 3 goals in his first 30 games. But the thing is, he still finished with a team high 31 goals by season's end. That's 28 goals in just 52 games, which is a 44 goal pace extrapolated across a full 82 game season.
Forsberg is the clear offensive spark for the Preds up front as he, along with Ryan Johansen and Viktor Arvidsson, is one of the more dangerous trios in the league when they're clicking. Forsberg proved this production wasn't a fluke as he carried his second half surge all the way through the playoffs, leading the Predators in both goals (9) and points (16). This guy is only 22, and he's put up 63, 64 and 58 points in his only three full NHL seasons to open his career. The sky is the limit for him, and I still can't believe the Capitals gave him away for Martin Erat and Michael Latta back in 2013…what a joke.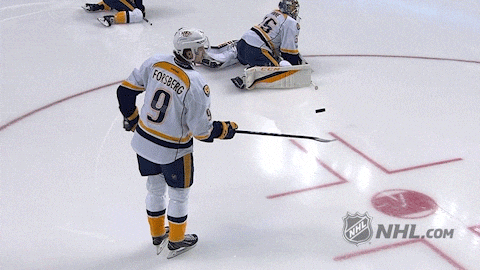 Our Rankings:
Ballantyne: 2nd

Burgess: 7th

Waind: 2nd
While the losses of James Neal, Mike Fisher and Colin Wilson may sting, they managed to patch some things up by bringing in Nick Bonino, Scott Hartnell and Alexei Emelin. Additionally, the early-season trade for Kyle Turris really beefs up their centre-ice position and proves that this team is all in for the Cup. Good on them, because with the group they have right now, there's no reason to think they can't get back to the finals once again.